Home » SEO, Copywriting, and Photoshop Blogs » SEO » Frequently Asked Questions in (2021) SEO — Answered in Simple English
.
Easiest (and 2021 latest) Guide to find your SEO FAQs.
.
No random advice nor limited to Yes/No answers.
Rather, you'll find:
1. Quantifiable answers.

2. Actionable advice that works for SEO 2021.

3. Notions backed by John Mu, Gary, Brian, Matt, etc.
.
Let's CRUSH your frequently asked SEO questions in one blog post.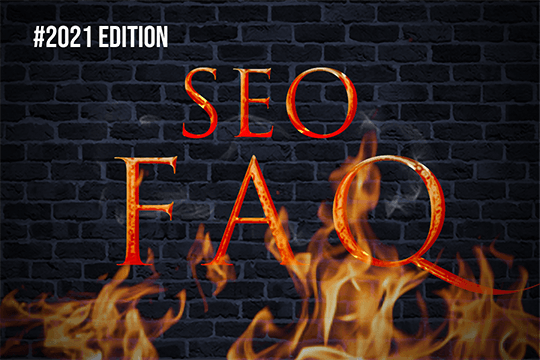 .
General SEO
Q1. What is SEO in Layman's terms?
Ans. Imagine you search for 'best Copywriting book', then you may not be having a particular book in mind; putting it like this… you definitely want a list of recommendation. And Google would exactly show you the list.

Not suggesting only 'Ogilvy in Advertisement'.
So, SEO is anything figuring out how Google (search engine) and readers interpret the search query. And then writing the content satisfying that search intent. If done well, the article would gain long-lasting traffic.
.
Q2. Which is more important in SEO: Backlinks or High-Quality Content?
Ans. For this, understand SEO exists because Search Engines exist; primarily Google exists.
And Google continuously update the algorithm, but one thing it never changes… presenting quality content to its audience. Hence, High-Quality content will always have an upper hand.
Also, having an actionable content or case study… naturally attracts links not the vice-versa.
Lastly, People connect with the content not with links. To turn your visitors into leads, you need content that solves their problem.
.
Q3. What are the most important On-page, Off-page, and technical SEO factors?
| | | |
| --- | --- | --- |
| On-Page SEO | Technical SEO | Off-Page SEO |
| SEO that we apply on the content, users can see. Optimizing it, will directly impact the UX. | It makes sure the web is suitable for crawling and indexing. | Activity that takes place outside the page, done to increase the rankings in the SERPs. |
| It largely impacts ranking. | It largely impacts crawling and indexing. | It largely impacts ranking. |
| Content-Length, readability, Answering the query, Visuals, and Category. | Mobile-friendliness, site speed, Preparing schema and sitemaps, Maintaining Robots.txt file, and meta tags. | Social shares, Guest posting, Brand mentions, and Blog comments. |
| Keyword research, insertion, and LSI. | 301 Re-directs, Deleting duplicate content, and SEO-friendly URLs. | Link-building, Directory submission, and Social bookmarking. |
.
Q4. What is E-A-T in SEO? How to use E-A-T to rank better?
Ans. E – Expertise, A – Authoritativeness, T – Trustworthiness.
E-A-T is topic subjective, holds water for YMYL topics.
[YMYL – Your Money (e.g., finance, budgeting) or Your Life (e.g., Fitness, healthcare, or diet)]
But E-A-T optimization should be included for any niche.
Follow the infographic, I've explained simple tricks to make your website E-A-T optimize.
.
Q5. Should I delete low-quality posts in my blog?
"Hi! 4 years into blogging. Inside: some articles are masterpiece, others good, some average and then maybe 20 garbage posts. I always wonder, deleting these garbage kinda post will increase my DA? Or should I keep them because they're bringing some visitors?"
Ans. There is slight controversy in between Google folks and SEO Experts.
Actually, deleting outdated and underperforming blogs, helps in keeping the website authority thriving.
But here's the catch, this thing depends on the website's Age.
Since you've a fairly New website – NEVER, says Danny Goodwin.
And you told, it's bringing traffic… Beef the content. Gary Illyes tweeted, suggested to add more HQ (high-quality) topics in the content and latest stats, this will improve the content quality.
And if someone has an old website, as a last resort… delete it. Make sure to 301 redirect the URL to the Home page, this would transfer the PageRank (not 100% though).
.
Q6. How important social media is for SEO?
Ans. In 2014, Matt explained that Good quality content naturally ranks better in SERPs. And also, gets more social shares because people tend to share the content they like. Hence, social popularity is the causation NOT the correlation.
Later in 2016, Gary Illyes tweeted, "Social Media is NOT taken into account for SEO".
Fun Fact – Google can't even crawl Facebook and Instagram pages. So, leave ranking influence.
.
Q7. What are the types of SEO?
And There are three types of SEO:
1. White Hat – Techniques that are natural, takes time to show results… but are done to keep the user experience in mind.
2. Black Hat – Techniques having only SEO and search engines in mind. People would do every bit to trick the algorithm to drive free clicks. Techniques that if get caught, will get your site banned from Google.
3. Grey Hat – shady tactic, an intent to get +ve SEO without keeping user experience in mind.
Few I've listed in the infographic:
.
Q7. What is the latest SEO algorithm update?
Ans. Passage indexing to come January 2021 (tentative) & Core Web Vitals to come in May 2021 (tentative).
Passage Indexing = Passage ranking. It means Google will rank those paras which best answers the query. It's that big, estimated to affect 7% searches… while the past-biggest algorithm update (Rank Brain) affected 3.1% queries.
Core Web Vitals – Google has made page speed, responsiveness, and web stability an official ranking factor.
They also shared 3 factors to quantify above:
1. Longest Contextual Point (LCP) – is the time your longest text block or image… present above-the-fold, gets loaded. Shorter it is… better.
Good LCP < 2.5 sec.
Poor LCP > 4 sec
Measured via PageSpeed Insights by Google
2. First Input Delay (FID) – Time required by the user to interact with the webpage and the page to respond the same. E.g., menu links appearing, filling a sign-up form.
Good FID < 300 ms.
Bad FID > 500 ms
If you're a blogger, then don't worry… you're well within the borderline.
3. Cumulative Layout Shift (CLS) – time required to adjust with the layout changes.
Good CLS < 0.25 sec
Bad CLS > 0.3 sec
This can be measured via PageSpeed Insights.
.
Q8. What is crawling, Indexing, and Ranking in SEO?
Ans.
Crawling – It's an act when Google spider finds your content published on the web.
PS – Crawling never guarantees indexing.
Indexing – Now, if the content meets the certain Quality Guidelines and it's not duplicated… Google will likely to appear that content in the SERPs for the query. This process of Google showing the content in the Google search is known as indexing.
You can find you're content here – site:anydomain.com
PS – Indexing never guarantees Rank #1
Ranking – how your content is performing in the SERPs for a targeted query, this is the ranking criteria. Quality-Optimized content will rank well in Google SERPs.
Fun Fact – Crawling and Indexing is heavily influenced by Technical SEO part. Ranking is predominantly influenced by the On-page and Off-Page SEO part.
.
Q9. Is SEO dead in 2021?
Ans. No… it's not.
In fact, it's the golden age for new websites to vest interest in SEO marketing. And to become the next big SEO Blog to follow.
With SERP features and upcoming Google's updates… making it easier for newer websites to enter into the Page 1 and drive huge traffic. Blogger now have to dedicate efforts in curating answer-targeting HQ content and providing good user experience… rather wasting money on PBNs or massive-link outreach.
And to put end to all the propositions: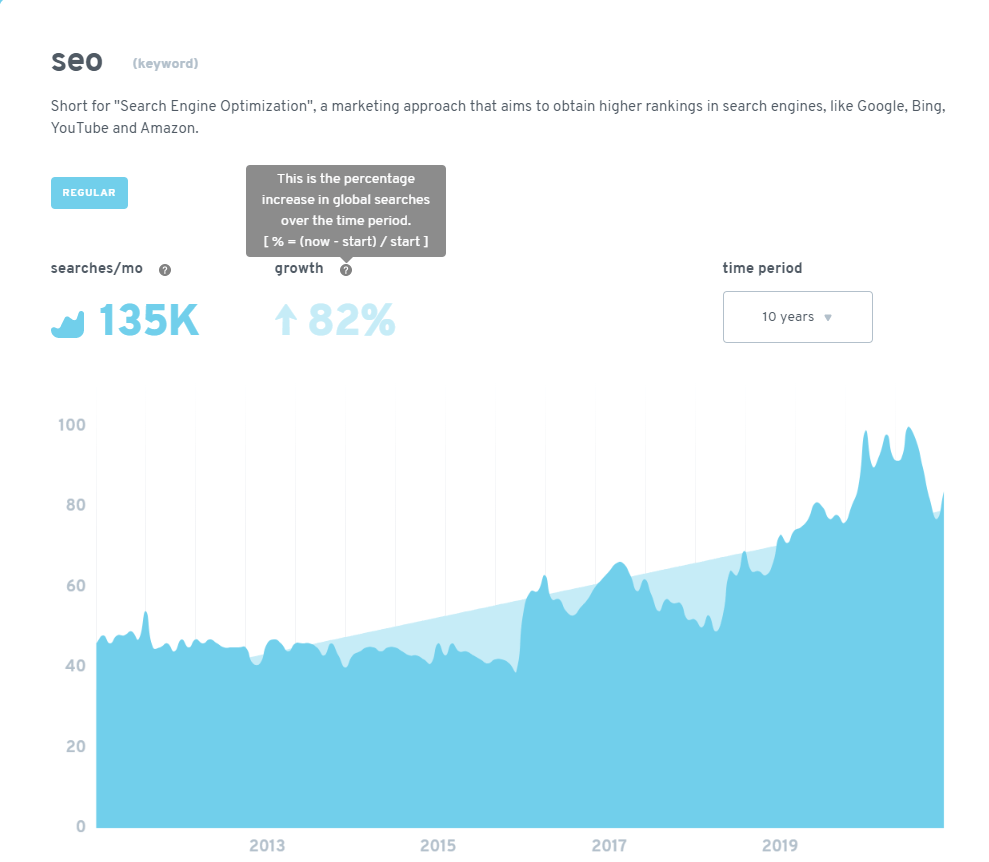 .
On-Page SEO
Q9. Do external links in the blog helps in improving ranking?
Ans Yes, they do.
According to Ahrefs, presenting different experts' opinions in showcasing the author's notion… improves the Trustworthiness factor. And this goes in synergy with the Google's E-A-T update.
Also, Neil Patel highlighted… linking out trustworthy sources, helps the reader in enriching his information. Also, it is the premise for Link-Building… it starts from giving!
.
Q10. What is the default attribute for any outbound link from my website to another one, is it do-follow or no-follow link? (ons)
Ans It depends on the location of the link and the CMS used. Since 60.8% CMS users are WordPress… so, I'll answer for that.
Embedding links on in-text – Do-follow
Embedding links on Comment or Author's Byline or testimonials – No-follow link.
Also, the site owner can convert a follow link to no-follow link as per his discretion.
.
Q11. What is the difference between Title and H1 Tag?
Ans This is a very common blogging doubt.
Here's my final answer to this!
| | |
| --- | --- |
| Title Tag | H1 tag |
| Title tag (<title tag>) is the one that appears in the Google SERPs. Inserted via Yoast SEO Plugin. | While H1 tag (<H1>) is the title of the blog, entered in the Gutenberg editor. |
| Title is written with getting clicks intent. | While H1 tag is written for giving the overview of the blog post. |
| Title tag can only be 1. | While as per John Mueller, H1 tag can be indefinite. But recommended limit to 1. Else too many would dilute the SEO juices. |
.
Q12. Should H1 tag and Title tag be same or different?
I'd recommend you to keep H1 and title tags different.
This will extend the keyword benefits, hence bringing more SEO juices.
Also, write H1 tag in cohesion with Title tag. This would help you in increasing the session duration.
Read the snap for more 🙂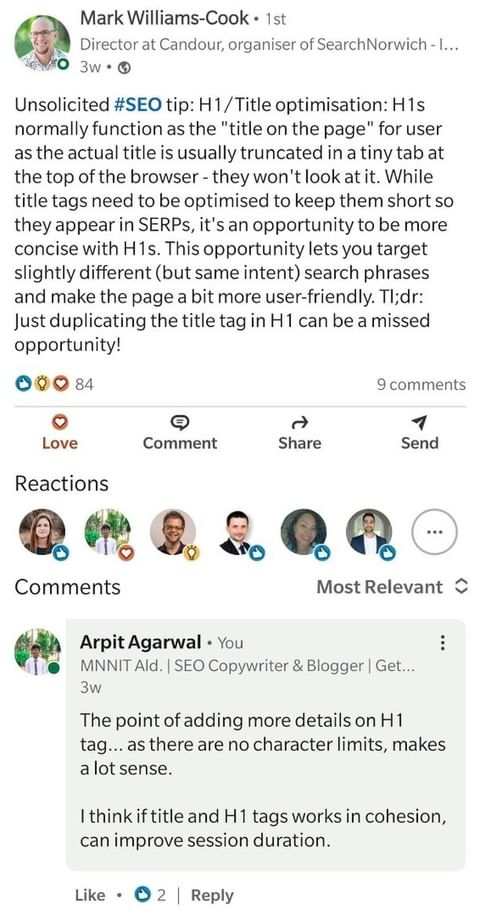 .
Q13. Does using bold/italics on the keywords in your blog post affect Google SEO in any way?
Ans. Good question! Theoretically, yes… but very-very minute. Google says, the bot gives more weights to the bold and italics text. Hence, it will reap more SEO benefits than a normal styled in-text.
This is because it's a tendency to bold or italicize words to denote emphasis.
PS – But keep the user-experience in mind while writing. At the end, the fundamental is… write for users, not for search engines. 😊
.
Q14. What is the best image file size for the website?
Ans Right image size completely depends on your host.
There are websites who host videos, yet their site speed is under 2 seconds.
I keep my image size below 60 kb. And infographics under 200 kb.
Simple Hack – Using the right image dimensions for your WordPress posts. To know this, right-click on the published image >> inspect >> take you the screen size.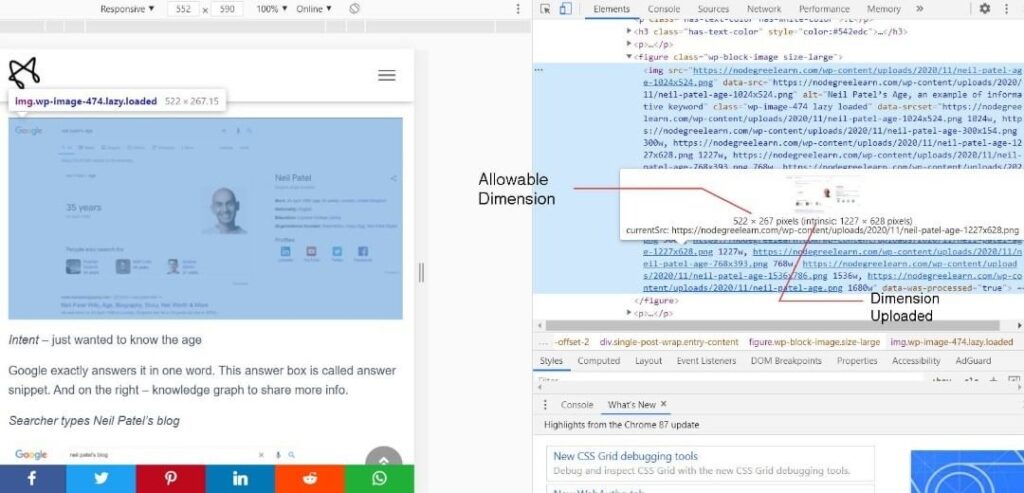 .
Q15. What is the average position in Google Search Console?
The question the lady asked was this, "I have a new post that is showing indexed. When I set past month as timeframe, its avg. position is 65. But when I changed the interim to 7 days, GSC is showing ' – ' position of that blog. Reason??"
Ans. Average position is all average of summation of rankings / summation of queries the property is "seen ranking for".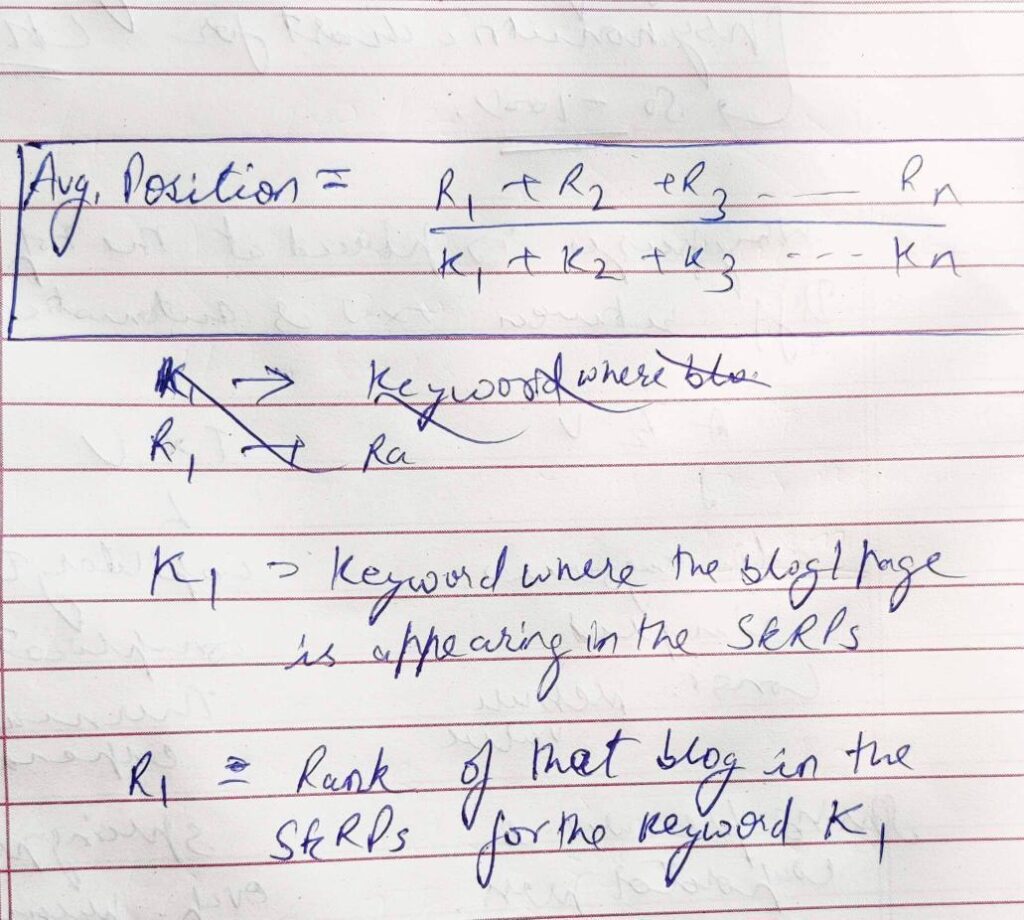 The catch is, suppose… Your blog is ranking on page 3. And the user did a query "how to tie a tie" and exited seeing the page 1. So, despite ranking for page 3… your blog rankings won't be used in the given formula. Therefore, for average position in Google Search Console, user has to see (impression) the property to register ranking for it against that query.
In some cases, Google shows – (blank) in average position, as that lady pointed… happens because the blog never registered an impression for a particular (or any) keyword.
.
Q16. What is LSI and its relevancy in SEO Strategy? And Tools to find LSI keywords?
Also, the Reddit guy goes on asking, "Is LSI good to use in content? As I have read various posts that LSI keywords does not help SEO whereas some say it definitely works".
Ans. Thanks for the question!
Latent Semantic Indexing (LSI) helps Google in ranking blogs for those terms a searcher "meant" but "haven't specifically typed that (latent)".
Relevancy of LSI in SEO
1. LSI plays a role in Semantic SEO. Adding semantically relevant keywords improves the search visibility of the content.
2. These're the keywords that are derived from the natural flow of the language. Since, Google can process the natural flow of language, optimizing for the LSI becomes eminent.
Tools for LSI:
LSI Graph (freemium) Easiest to use. Just enter the keyword, will automatically generate the list

To dive deep – optimize content for LSI
.
Q17. Why image is heavy?
Ans. Here are few things you can use to optimize your images:
1. Resizing images to the correct screen dimensions. To know the right image dimension, refer the Question 14.
2. Use 72 PPI for images. Your web screens will allow images up to this resolution only. 96 PPI and 300 PPI are over editing… so, makes no sense.
Note – If you click images from a Mobile camera or DSLR, it captures in 300 DPI.
3. Turn on the Lazy load. For this, I use W3 Total Cache plugin.
4. Compress your image using TinyJPG. It take cares for the resolution problem.
5. Be thoughtful with the image type. Use this…
Images having lots of text or having lots of white-black color – PNG. E.g., Infographics, Screenshots.
Images have several colors like landscape or stock images – JPG.
.
Q18. What's the best way to find long-tail keywords? How many times to insert long-tail keywords?
And he adds further, "This has probably been asked gazillion times, so my apologies in advance".
Ans. True that! Internet is soured with this query.
Firstly, if you're creating pages-after-pages, optimizing it for single long-tail keywords… then you're doing the SEO wrong way (exemption for medical, finance, or YMYL niche).
Now, coming to the answer: the best way to find long-tail keywords is find as many relevant long-tail keywords you can for a blog post!
Tricks like:
Google Autosuggest
Google Related searches
Ubersuggest and Google Keyword Tool
And the second part – use Keyword Clusters for insertion.
In keyword clusters, grouping of long-tail keywords takes place. The idea is each long-tail variation will give rise to a small topic. And now consolidating those topics into one meaty blog. Sprinkling those phrases on their respective topics… improves the search visibility.
Frequency of the long-tail keywords: 2-3 times in the in-text is enough, make sure insertion is natural.
SEO Advice – Even if you don't insert, still your blog can rank for that query. But it's always safe to insert them, making it easier for the Google Bot to find your blog and rank it.
.
Q19. What does bounce rate mean and How can I reduce the bounce rate on my website?
Ans. Interesting question. Let me tell you a story…
Suppose Bob types in "how to tie a tie" >> finds a blog >> Now, he saw and thinks… crab! >> within seconds goes anywhere else (cancels the tab OR back to SERPs OR goes to a pub OR smashes his Mac) –> this would count a bounce rate.
Now, Suppose Cool dude Arpit types in 'Why I'm so funny' >> finds a blog >> Now, he saw and thinks… it's freaking amazing, just scrolling and spends hours into reading it >> goes back anywhere satisfied –> this would count in a bounce rate.
No typos!
*funny enough*
Suppose, just last time, Jack types in 'tinder hacks' >> finds a blog >> Now, he clicks the other link embedded in the website>> doesn't matter clicks the link in 1 sec or 1 hour -> No Bounce rate.
I hope you're now clear with the definition. Leave a comment, how you liked my explanation (funny or rude comments only)
Bounce rate depends on the type of website.
For blogging – 60-90% is the industry standard. Bounce rate for my website is 66.76%. Bounce rates VS industries, here!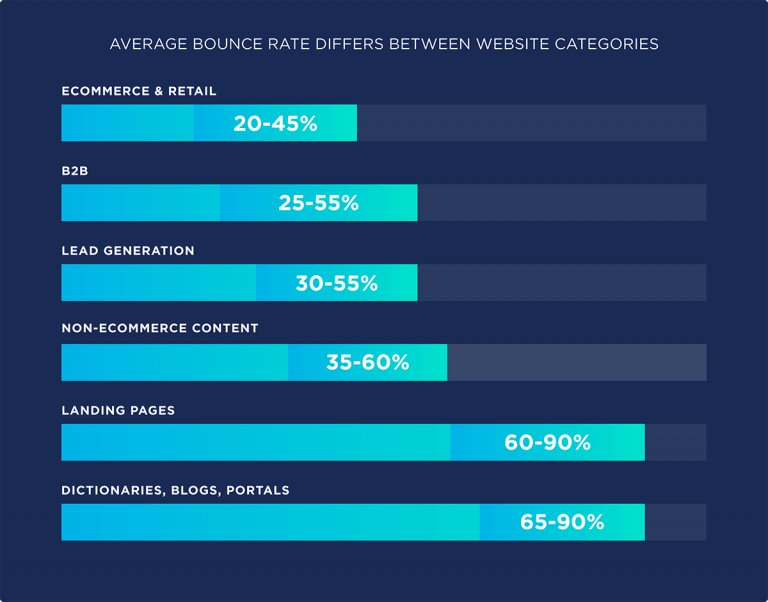 Bounce rate impact on SEO
As you noticed from the story, time is not a factor in the bounce rate… so, against the prejudice, bounce rate isn't bad for SEO.
But the problem is Pogo Sticking. In our earlier story, Bob was unhappy with the blog page and within seconds returns back, now he clicks another SERP… that whole incident counts as pogo sticking.
This Pogo Sticking has repercussions on SEO. And generally, it is linked with High bounce rates.
How to decrease bounce rates?
1. Add a video – Brian Dean tested for his website, Backlinko, he found embedding a video decreases bounce rates by 9%. And it's one reason, you'll find a video in my every blog post.
2. Have an exit intent pop-up – According to Convertful, it recovers 11.4% of the exiting audience. Hence, 11.4% lesser bounce rate.
3. Trim the text – Shortening the length and improving the readability will decrease the bounce rates. 4. Image Allocation trick – Never place image in the above the fold of your content. Keep the content at top… decreases on-page load time, hence decreasing the bounce rate.
.
Q20. How do you fill alt text of blog images for SEO? Do you write it like a caption?
Ans. For writing Alt text, you need to understand the purpose behind. It's written to help the blind people to know the details of the image. Hence, Writing Alt text is telling Google exactly what's inside the image.
While Captions are the extended image descriptions. Here, bloggers can briefly write the backend story associated with the snap. Or they can share location or photographer's name.
SEO Tip – According to Google, both Alt text and Captions shows an SEO influence. But arguably, Alt text draws the major chunk in the image optimization.
.
Q21. Any SEO benefit using keywords in my headlines or just write naturally?
"My friend advised me to optimize my headlines by adding keywords, so I could get a better ranking on Google. I don't know much about SEO and for all this time I have been writing headings naturally. This has all got me confused and I need your help with it."
Ans. Short Answer – Yes.
Long Answer – Acc. to Serped.com, H1 tags being aesthetically the largest… hence, highest Keyword Value.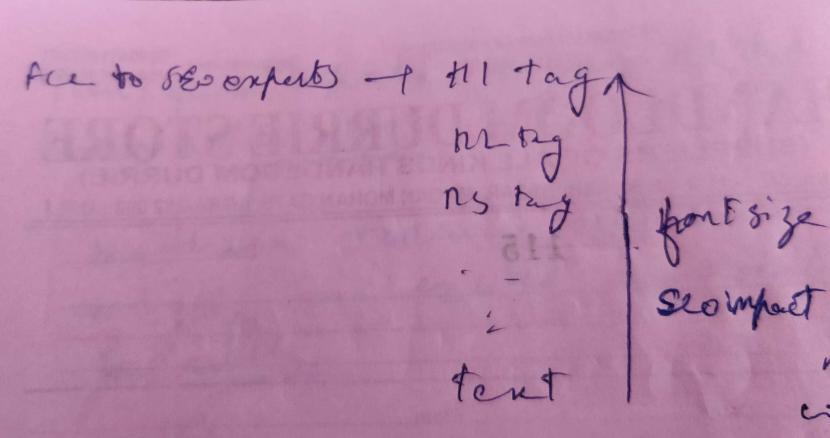 But… Don't change Headings of those content pieces where you're already getting traffic.
Use this, Google Search Console >> Pages >> Impression.
Now, filter the less-traffic ones. And change headings and refurbish those pieces.
.
Off-Page SEO
Q21. What is Follow and No-Follow and their SEO impacts?
Ans. A bit controversial topic, but since asked… here's my take:
Follow Links and SEO Impacts
Links present in the external website and pointing towards your site… and passing link juices towards your site.
In general, people think links help in improving the SERP rankings. Generally, it does but not always.
Because link juices depend on the nature of the external website.
Link coming from a Gambling (or any sketchy site) Vs link coming from a Legit site (like No degree Learn, Forbes) are two different things.
Former can even penalize you while the later will counted as votes… hence, improve your SERPs ranking and website authority.
SEO Tip – These links from sketchy sites are known as Toxic Links. And if they're in bulk, then you've to disavow (remove) these links.
Luckily, Google has a tool: Webmaster Disavow Tool.
No-Follow links and SEO Impacts
And talking about controversy… we've reached to the Everest's peak. XD
Some say, No-Follow makes no sense and should be abandoned. While other school of SEO says, it does help you with your SEO efforts.
And the Google's final words on Sept 10 2019,
We'll use no-follow links as "hint" rather than as a directive for ranking purposes.
So, a hint is a good thing because:
1. Diversifying your network reach.
2. Diversifying your link profile.
According to SEMRush, pages #1 have 20%-40% no-follow links. Also, having no-follow links, make the link profile more natural.
3. No-follow links account from social media links.
This signals Google about social mentioning of the blog, hence bring positive SEO benefits to the website.
SEO Tip – Do share the content on Pinterest. According to Neil Patel, Pinterest has the highest link value among social platforms.
.
Q22. How to find guest blog post in any niche?
Ans.
Method 1 – "targeted keyword" + allintitle:Write for us
Method 2 – "targeted keyword" + allintitle:Contribute us
Method 3 – "targeted keyword" + guest post
Method 4 – "guest post" + intitle:"preferred author"
Method 5 – site:targetedwebsite.com + "this is a sponsored post"
.
Q23. What to do when someone asks you for links?
Ans. This is commonly asked on Fb groups I hangout. With 281 Million emails sent every day, all bloggers must have received a mail where a company is asking them to link the content.
And this question is deeper than answering in Yes or No. And you can't say no to everyone… as the matter of fact, you too would ask for backlink someday.
Here're are the few signals to look at while linking:
1. Link coming from a High DA website – As we know, linking to other "authoritative" sites will improve the authority of your known site.
2. The blog and the website as a whole is relevant – Suppose, if a Gambling (or any sketchy) website approaches me to link their SEO content on my site… relevant content but no linking.
3. WIIFM (WHAT'S IN IT FOR ME) – You should look for something in return. You're giving them a link…. And backlinks are the SEO currency.
Best would be a link exchange. But other perks can be: sharing your blog to their email subscribers or tweeting about it.
.
Q24. Do the age of backlinks matter?
Ans. The question can have two meanings:
1. Coming from Aged Domains – According to Brian Dean, "Backlinks from aged domains may be more powerful than newer domains".
2. Link Age (the time length Domain A backlinked your site) – SE Journal says, Age is a factor that cannot be faked. And since the Domain A has the backlinked the site B for a long time, it reflects trust. Hence, bringing positive SEO signals.
.
Q25. Is it illegal to do link exchange?
Ans. It depends on the quantity. Once in a while… Okay-ish! But 300-400 links exchanged!? Red Alert!!
Google says, "excessive link exchanging" can penalize you. Hence, if done in a control-modest fashion, would keep your site clean and prospering with the incoming link juices.
Adding up, Moz says that Link exchange should be done ONLY in-between the relevant websites.
*story time*
I too exchanged links with my fellow blogger, having a marketing niche, for my blog post: Neville Medhora Book Review.
And I saw an improvement in the rankings, especially for my targeted keyword.
.
Q26. What is directory submission in SEO?
Ans. Web directories were earlier quite popular. Back in those days when Google spiders were slow, directory submission was the way to get content crawled quickly. Because crawlers were quite active on these directory sites.
But, Are these still relevant?
Yes, here're 6 SEO benefits to submit directory:
1. Having Directory is "getting mentions on the external website", an E-A-T quality guideline… brings positive SEO impact.
2. Directory submission acts as a backlink. Some directories like Yelp and BBB are High-DA directory. And getting your site listed will boost your SEO efforts.
3. Get reviews on your Google My Business, Yelp, and BBB. This improves the transparency factor in the E-A-T principle, hence bringing SEO goodwill. Additionally, it improves the Local SEO.
4. Some directories like Hot Frog are great for driving leads.
5. Directories like Blog Aroma, Blog Catalogue, and About.me have a huge built-in audience. Hence, great sources to drive traffic to your site.
6. Last but not least, directories get your content quickly indexed. After all, this why directories were established.
SEO Advice – When submitting to directories, suggested to go slow. Don't mass submit, 2-3 submissions/month are fine.
.
Technical SEO
Q27. What is Keyword Cannibalization? And Why it happens?
Ans. Keyword Cannibalization — Occurs when for one keyword, multiple pages from the same website are ranking at proximity. Since both posts are from the same website, hence the higher-ranking post cannibalizes the chances for the lower ranking page to grow for that particular keyword.
Keyword Cannibalization happens because — Curating multiple posts (multiple URLs) having similar content and targeting to a similar keyword. Earlier days of SEO, companies used to have a prejudice, Google would think website authoritative… having many pages for one keyword. And this fallacy resulted keyword cannibalization. Hence, stealing clicks, confusing visitors, wasting crawl budget, and benefiting none.
.
Q28. How to prevent Keyword Cannibalization when targeting long-tail keywords?
Ans. An SEO professional asked me in my LinkedIn DMs.
Firstly, thank you for the question.
Its answer lies in knowing the definitions well:
Targeting Long-tail Keywords — Curating content for a "specific query", intent to rank higher for that query.
Now, the problem arises when people start thinking 2 long-tail keywords with slight variation will create cannibalization… as those blogs might be having similarity with the content.
This belief is "partly" true. But understand, this happens not due to the Long-tail keyword but performing poor SERP analysis.
Backlinko is the perfect example on how to ACE Long-tail Keywords via strong SERP analysis.
A Fun Experiment to show you what I meant!
Query 1: Free SEO Tools, you'll find a Backlinko blog on "free SEO tools" (has only free tools inside)
Query 2: SEO Tools, you'll find a Backlinko blog on "SEO Tools" (the complete SEO tools list)
How that happened?
Brian did the SERP analysis well, observed the later keyword has results showing paid + free tools, hence keyword cannibalization won't appear. Adding up, both keywords are highly competitive with domain diversity in the SERPs.
.
Q29. Does the number of no-indexed URLs effect on the website's ranking? And do I need to no-index my archives and privacy pages?
Ans. If it does, then only for the bad.
No-indexing tells crawlers which page to not crawl, and hence, not rank. E.g., WP admin page.
Suppose, you've Blog A and you've interlinked it with other blogs… standard SEO stuff. But now you've no-indexed the Blog A. Telling crawlers not to index, but those interlinks telling to index. Therefore, such conflicting signals… creating poor experience for crawlers… bad for SEO. 
Second Part…
If you're thinking no indexing the URL to optimize your crawl budget, then Privacy Policy should NOT be the one. SEO Agencies like Ahrefs, Neil Patel, and Backlinko have indexed their privacy policy page.
Reason: After the E-A-T update, where T stands for Trustworthiness… no-indexing a privacy policy page, written to build trust and be transparent with the reader, can negatively impact SEO.
.
Q30. Do Google Analytics affects the PageSpeed score negatively?
Ans. Theoretically, Yes.
Google Analytics is a cookie from a third-party script. So, it would create a delay in the Longest Contextual Point (LCP), hence will slow down your site… impacting the score negatively.
But this is also true, Google Analytics gives ample of date to streamline your marketing efforts. Also, here the third-party is the mighty Google, so its servers are quick to load. Therefore, there is enough compensation for a blogger to insert the Google Analytics cookie.
PS – LCP is the time your longest text block or image… present above-the-fold, gets loaded. Shorter it is… better.
SEO Tip – LCP is among the 3 major factors in the core vitals update 2021.
.
Q31. What is image sitemap? How important it is to have a sitemap for a website?
Ans. Image sitemap contains the path where the image is stored. If you have Yoast plugin… it automatically creates image sitemap, right after you upload the image in the WordPress Media.
Once sitemap created, Yoast stores it in the post sitemap.
Go to: anydomain.com/sitemap.xml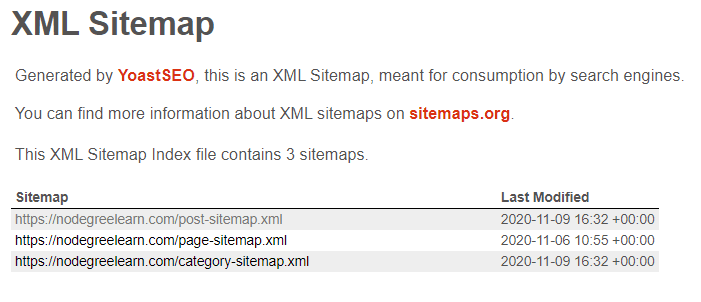 Copy the post sitemap link from using: Now submit your post sitemap on Google Search Console.
Google bot will automatically crawl the images stored inside it.
Bonus Tip – Copy the link of your category sitemap and submit that as well.
Extending this question, How long Google takes to index images?
John Mueller tweeted, "Google can take months in indexing the images. And it's not guaranteed", reported by SERoundtable.
Fun Fact – Earlier bloggers could get the no. of images indexed via Search Console. But this luxury is now unavailable.
.
Q32. What is schema markup? And What is the difference between schema markup and sitemap?
"Sorry if the question is stupid or obvious, I'm pretty new with these things…", with a sigh, she posted.
Ans. Schema Markup is an HTML or a JSON code that you insert in your CMS (like, WordPress) to help search engines understand the content inside. This includes inserting: author's name, publisher's name, published date, publisher's logo, featured image, content type, etc in the markup.
Recommended Plugin – All schema markup
SEO Tip – Acc. to Ahrefs, inserting Author's name in the schema markup will improve the E-A-T value of the content… hence, improve the rankings.
Sitemap – It's an XML or HTML coded document, making it easier for the Google Spider to find your content. When you submit the sitemap, Google spider gets the content in the readable format and hence, reducing the chances of indexing errors. Google spider uses sitemap to structure your website.
Recommended Plugin – Yoast SEO plugin
.
Q33. How to create an SEO-friendly URL?
Ans. Keeping a friendly URL is important as it's used by crawlers to understand the content. And John Mu tweeted, "inserting keywords improves the ranking".
SEO friendly URLs:
1. Keep it short. Brian Dean noticed a strong correlation between short length and higher-rankings.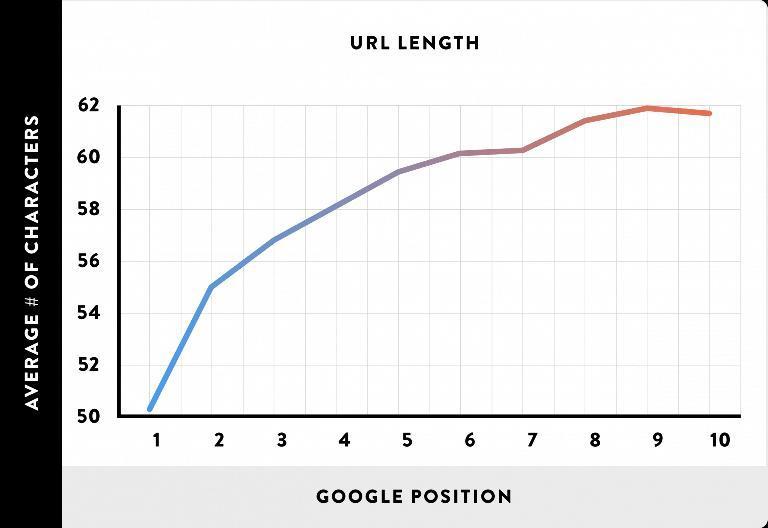 2. Keep it simple. So, people can remember it and directly insert it in the search. Hence, improving the direct traffic.
3. Keep it sweet; No numbers. Adding numbers will make it difficult for you to update the content.
E.g., anydomain.com/10-best-copywriting-tips wrong
Instead, use anydomain.com/best-copywriting-tips SEO-friendly URL
With the later one… I can update with more tips or delete any, without confusing my readers.
4. Make sure to add canonical tag for:
nodegreelearn.com/professional-linkedin-banner/
NOT For
nodegreelearn.com/professional-linkedin-banner
5. Insert Primary Keyword to rank better.
6. Don't add date in the URLs.
If you're a WP user, by-default it will add numbers in the URL. So, change the setting to custom immediately.
7. Keep the URL in the lower-case. It offers better readability.
8. Use hyphen (-) not underscores (_) , said Google. Coming directly from the horse's mouth.
.
WordPress SEO
Q34. Should I stop using WordPress tags?
Ans. No, keep using tags.
WordPress tags help the user to navigate. Hence, easing the content to get found… bringing positive SEO signals.
The main problem with tags – creates duplication of pages.
To avoid that, add this in your Robots.txt file
disallow: /tags/
Meaning… your tags won't be indexed by the Google bot. 😉
.
Q35. Can you share the best WordPress Free SEO plugin?
Ans Yoast SEO Plugin
Reason:
For a Content Writer, Yoast SEO Plugin (among the 14 SEO Writing Tools) helps with:
Title Preview,
Fischer readability score,
Passage break for better readability,
For WordPress SEO, Yoast SEO Plugin enables:
FAQ Schema
Sitemap handling
Cornerstone content
Breadcrumbs Enabling
Rich Pins verification
Meta description insertion
Preparing a Robots.txt file
Submitting the image sitemap
Reminding internal links to embed
Enabling published date to display in SERP.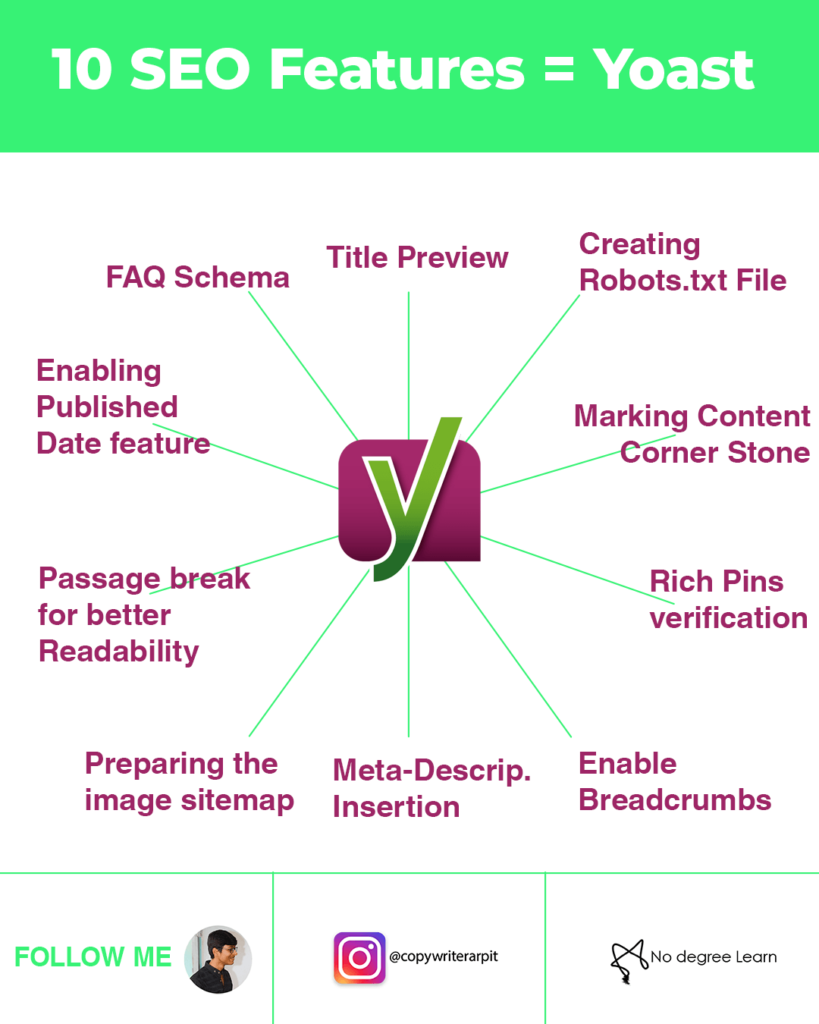 Other intangible perks:
Compatible and timely updated,
Free tutorials on YouTube,
Built by a Reputed site.
Counting these many benefits, Yoast does the work of 6 plugins in one.
.
Q36. How to determine the featured image size?
Ans. The size depends on the theme you're using.
Method 1 – Contact your theme provider to get the details. Sometimes theme forums have answered this thing.
Use featured image size + "concerned theme"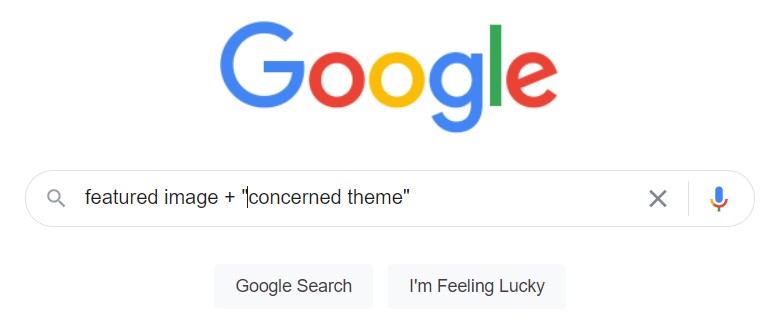 Method 2 – Right-click the published theme image >> inspect >> show you the max. display image size.

.
Q37. Should I delete irrelevant categories on my website? What will happen to sub-categories if I delete the parent category?
Ans. Categories are there for the convenience of the visitor, so he can access similar content at one place. You said, they're not relevant… delete them; No SEO impact.
Just submit the updated category sitemap, Google bot will timely crawl your site. It will observe that few categories are deleted… and would no-index them. Hence, no crawling errors would appear. 🙂
Second part… When you delete it, sub-categories will climb one-tier and become individual parent category. And posts associated will remain intact.
And if no sub-category present, all posts associated will move to the default category.
Note – You cannot delete the default category; generally marked as "uncategorized".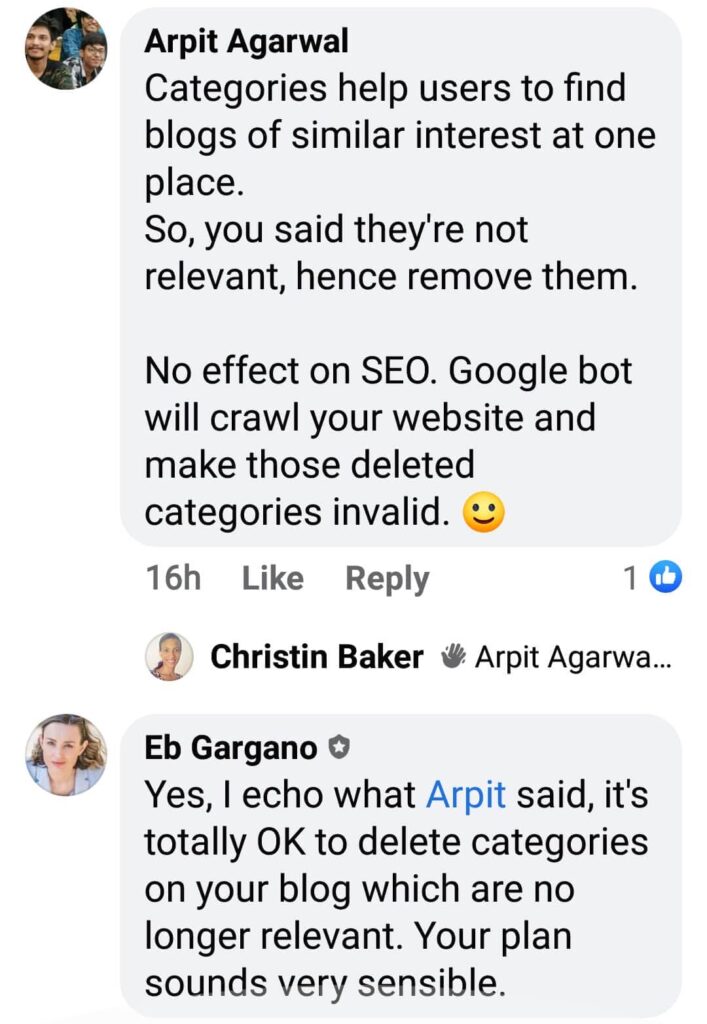 .
New Website SEO
Q38. How to perform competitor's traffic analysis?
Ans. For competitor analysis, use – Ubersuggest.
Enter the competitor's URL.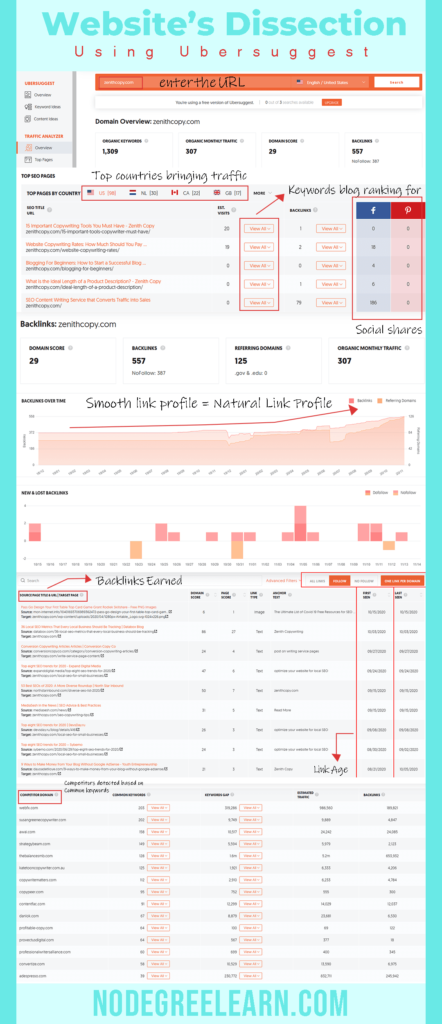 (For high resolution: view it on my Pinterest Account)
It shows you:
Domain Score
No. of Keywords
Monthly Organic Traffic
Top performing content ideas
Anchor Text & Link Profile
Traffic Demography
Backlink sources
.
Q39. How to read and understand Google Analytics reports for a blogger?
Ans Good one! Thanks for the Question.
I got your sense, data coming from Google Analytics can be overwhelming.
Here's the KPIs you need to track as a blogger:
1. Session Duration and Page Views: to analyze the website's growth.
2. Demography of the Audience:
Country to understand the marketing efforts,
Age group to understand what content type will work. E.g., GenZ may not like investment tips but love reading Pocket Money saving tips.
Gender to understand the tone of the voice and branding colors.
3. Device they are using – to know for which device you need to provide better User Experience.
Discussed in my Keyword Research blog post, Mobile users spend less time than Desktop Users. Also, Desktop users have more commercial intent than Mobile users.
4. Social Traffic – I get traffic mostly from Instagram and Facebook. Hence, I'll streamline my efforts on these two platforms.
Cool Trick – To find any KPI, just type on the Analytics Search bar.

.
Q40. What to do after publishing the post to set SEO in motion?
Ans. Here's what you can do:
Submit the sitemap on Google Search Console.
Interlink the article with your relevant blog posts.
Promote. Promote. Promote. (esp. on LinkedIn and Pinterest)
If updated the content, cross-check that last updated date is showing.
.
Q41. Should I submit my URLs to Google Search Console after updating the posts? Any negative SEO impacts on resubmission?
Ans. Yes, you should.
This helps Google bot to quickly crawl your website. Also, it notes down all the changes you've done. Freshness among 200 ranking factors, so it's important the Google bot reckon the content is updated.
E.g., Last week I updated Custom YouTube thumbnail and Proofreading Guide, so I requested indexing for these links on GSC.
Regarding negative impacts, this can only happen when you do some crazy CSS edits. Rest assured.
.
Q42. How to know which keyword to target for a new website?
Ans There are two methods: SERP analysis and Mirroring Competition.
Method 1 – SERP analysis requires Moz DA Chrome extension.
Find 3-4 relevant keywords. Now, enter the keyword >> Run Moz DA Test >> show you DA, PA, and Backlinks for every SERP.
Now, target those SERP which have low DA and Backlinks count.
Method 2 – Mirroring involves performing Competition Analysis using Ubersuggest.
Enter the competitor URL in Ubersuggest >> Will show their High-Performing content topics >> Pick one relevant to your website >> Shows the keywords it is ranking >> Make 10x better content inserting those keywords. (refer Q37. for the infographic)
Side Note – I've covered in lot in-depth in my Comprehensive Keyword Types & Research Guide.
.
Q43. How to build domain authority (DA) for a small website?
Ans. Some excellent research done by Siren, here's the pie chart sharing factors affecting the DA: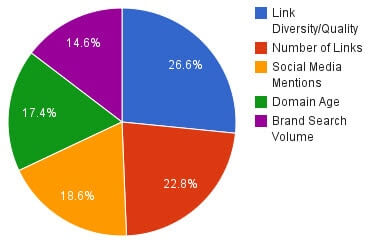 As you know, for a new website:
Domain Age & Link Quality would be outta reach.
But, Social Shares and Quality Content are always under your belt.
For Social Shares — design infographics and upload original images.
Publish Quality Content as remember the old saying, "Google ranks pages NOT websites".
Simply focus on creating EPIC Content, Google will ultimately rank that. Also, HQ 3000+ words content draws 77.2% more backlinks than 1000 (or lesser) thin content.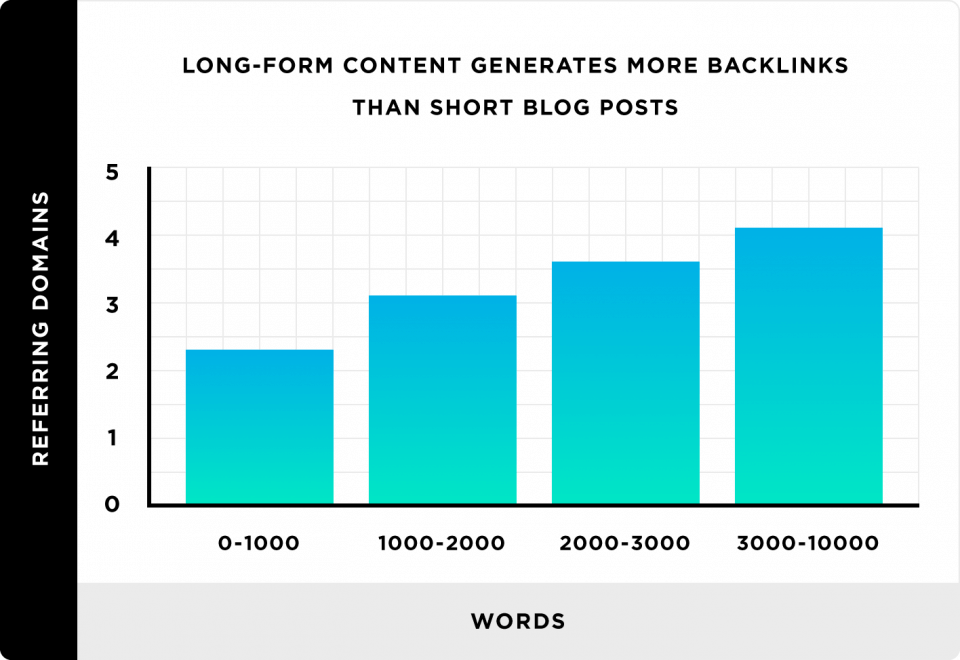 An example to motivate you – Anastassia Blogger, a Pinterest Marketer. Despite having 27 DA (as per Moz), drives 75,379/month of traffic. All due to Quality content and Pinterest marketing.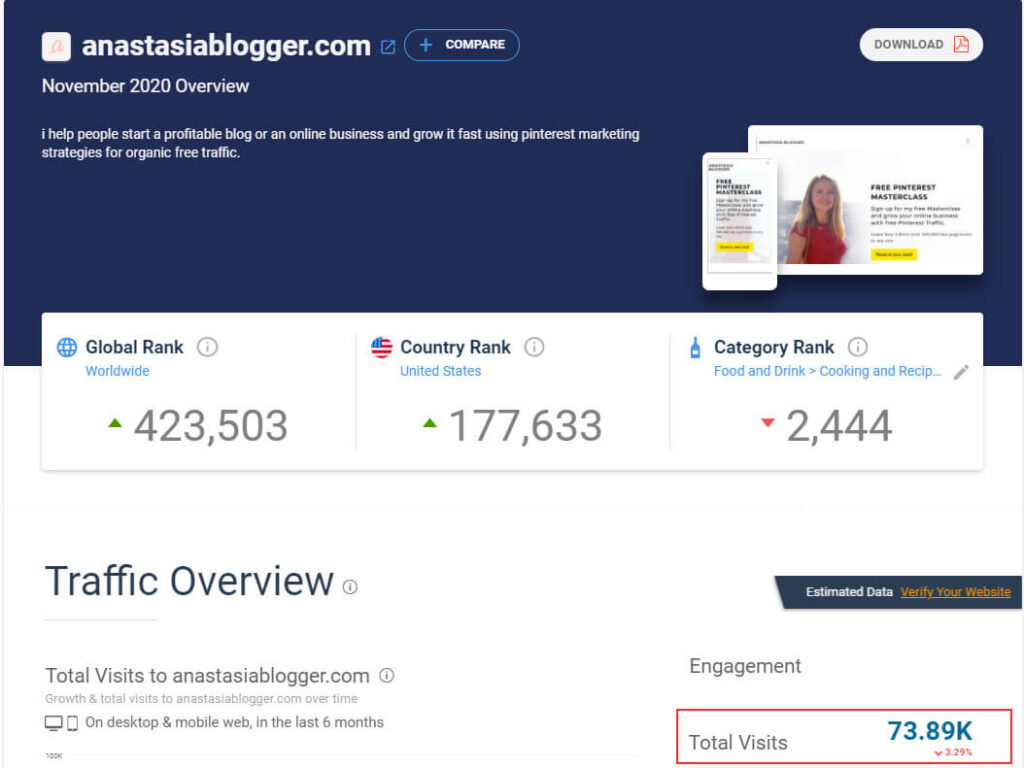 .
Q44. What to prefer: Trending on Twitter or Ranking on Google's Page 1 for a day?
Ans. This question I got from SEMRush, posted on Instagram.
There is no right/wrong answer. It depends on the keyword and the topic's nature. Fixing one, like… keyword is seed word. Then…
Evergreen topic – Ranking on Page 1 on Google. Hands down! Due to huge search volume, within one day… blog will generate 5-6 backlinks. And hence, the whole website will reap benefits of that for the days to come.
Seasonal Topic – Trending #1 on Twitter. Because now, blog will get good social shares and surplus traffic. Also, seasonal topics are made with commercial intent, hence the incoming traffic would hike the conversions.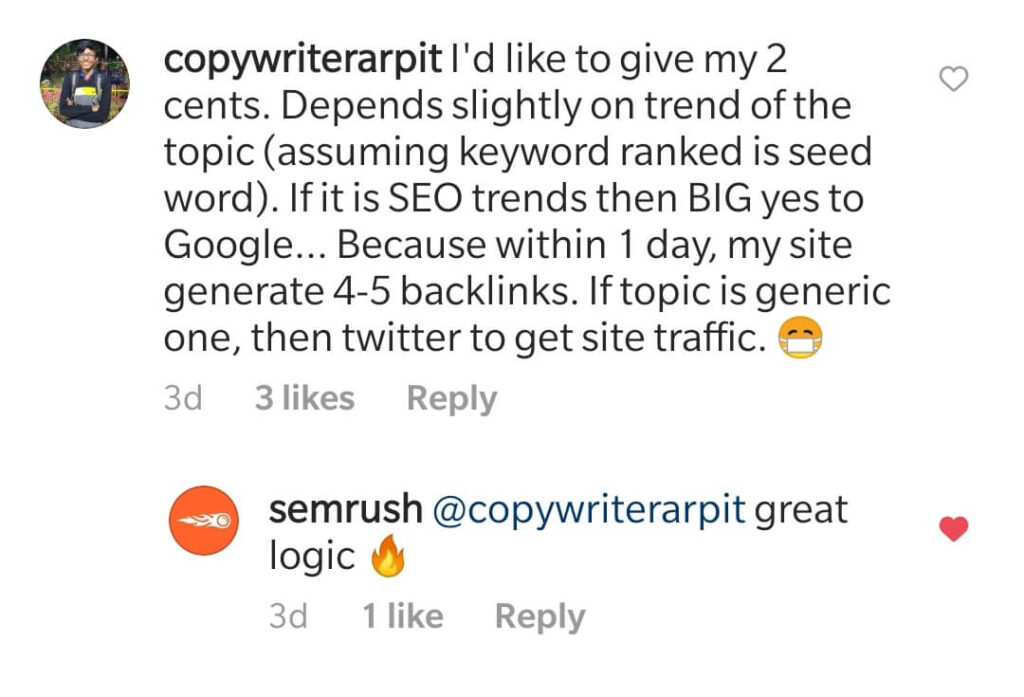 .
Q45. What is the Best Free Keyword research tool and Why?
Ans. Ubersuggest by Neil Patel is the best free keyword research tool. Because:
1. Friendly UI,
2. Exact search volume,
3. 7-8 free search attempts,
4. Competitor & Keyword Gap Analysis,
5. Link Profile, Anchor text & the Link Graph to spy.
.
Q46. How to increase website traffic without paying on Ads?
Ans. All the data to increase traffic is within you, inside your Google Analytics and Google Search Console.
1. Acquisition >> Traffic >> Social. Analyze the social-traffic. Focus only on those where you get decent traffic and session duration. This would streamline your content promotion efforts.
2. Behaviour >> Site Content >> Change the time frame and Compare >> Observe which content traffic dried. Refurbish it: trim down the sentence length, add more topics, stats, and embed a video. These tricks improve the retention time and enrich the content.
3. Focus on Evergreen Topics. This would bring consistent organic traffic.
4. In the GSC, Performance >> Page >> Select a Page >> measure the CTR. If the CTR is less than the avg. website's CTR, improve the title and meta description. More the CTR, more the clicks… also, good for SEO.
Note – Once you refurbish the content, publish it again on your targeted social media. 😊
.
Q47. Does participating in Google AdSense affects SEO?
Ans. Another one, took straight from the Fb group.
Google is vocal about it… claiming, AdSense doesn't affect site rankings. Nor any search favor to those sites having AdSense. Neither it'll impact the crawling.
But if we have a holistic view:
1. AdSense is a JS Code, hence would take time to load. Resulting in slower site speeds.
2. Person clicking your ad and will leave your site, hence lower session duration.
3. And we all admit, Ads somewhat hurt User Experience. And after Core Vital Update, this can have a severe negative SEO impact.
More on this covered by Cyrus on Moz
So, I believe Google Ads can be bad for SEO. But if done with the best practices, you'll be getting fair compensation for that.
.
Q48. How far ahead works best when publishing a new blog post which has a seasonal intent?
Ans. Excellent Question!
As we know, Google may take up to 14 days to just index your content and then weeks to rank your content (esp. if you've a small website). And content being a seasonal nature… as a blogger, you already have a deadline.
Best thing you can do…
Go to Google Trends >> Enter the targeted keyword (preferably primary keyword) >> Targeted Country >> Time Period 5 years.
Now, observe the recurring spikes. Mark the corresponding time. And the spikes are when the content gains popularity. So, this is the time your content should start ranking.
For this example, it's 5-11 Feb (no wonders :P)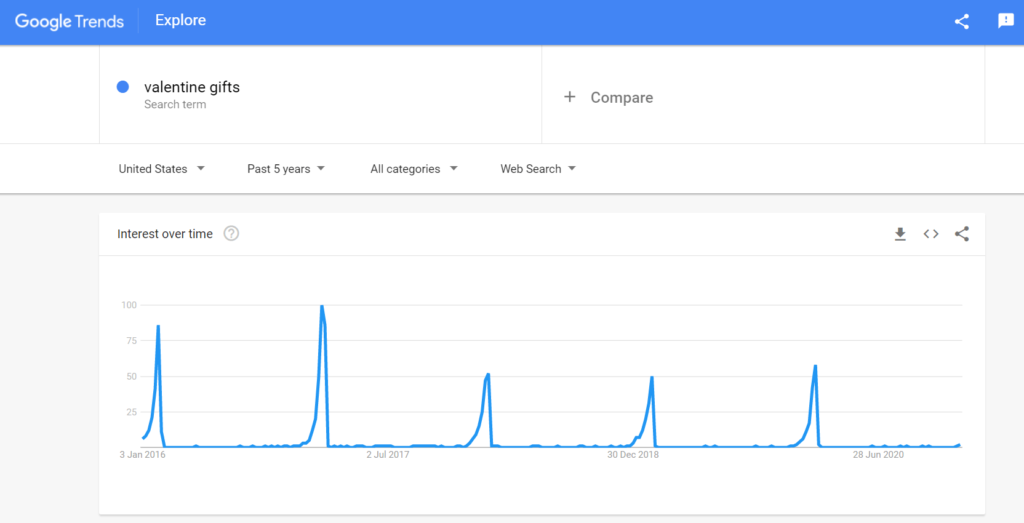 So, take a fair guestimate… including an allowance for the Google to rank. Like in this case, you should write the content on early-December. By this way, you'll give enough time for your content to indexed-to-rank.
.
Q49. Any formula for estimating traffic from a keyword?
Ans. Great Question and an important one too!
Well, it's no rocket science. Proficient Digital did some excellent research.
They segmented keywords as Branded and Non-branded keywords. And through statistics, calculated CTR% for both the keywords VS SERP rankings.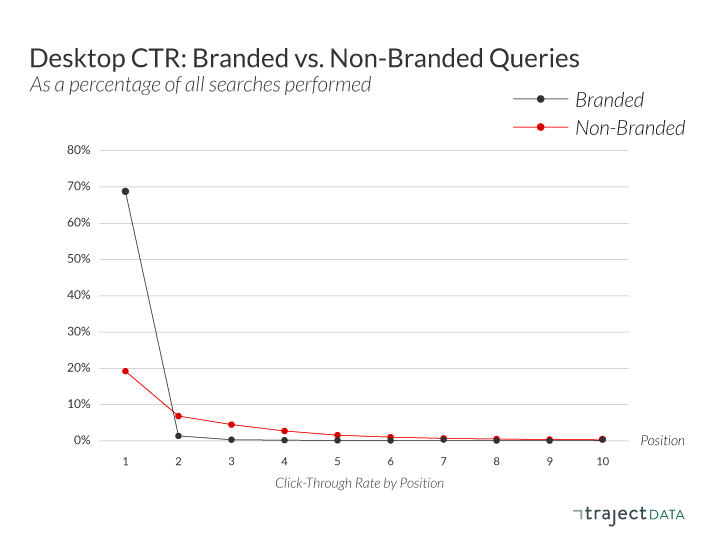 And the search volume you get using Google Keyword Planner or Ubersuggest. Or for more accurate, then use Ahrefs Site Explorer. These will be the impressions.
Estimated clicks -> (estimated % clicks)*(impressions)
See.. it's that simple to estimate visits without even publishing the content.
.
Q50. What is an exact match domain? Do search engine algorithms take keywords contained in the new top-level domains into consideration?
Ans. That's something I used thought about, but never care for it. But your question gave me the opportunity to explore deeper intricacies.
Short Answer – NO.
Reason – After the EMD update 2012, SE Land said that No Free Lunches (free ranking perks) will be given to those websites just because their domain got matched with the keyword.
But Do you need one? If planning to buy a domain, I strongly recommended to have a "niche-oriented domain".
Benefit – Your visitors know what exactly your website is about… without looking at the About Us page.
E.g., No degree Learn – learning skills without needing a degree (DIY stuffs focusing on Copywriting, SEO, and Designing).
Summary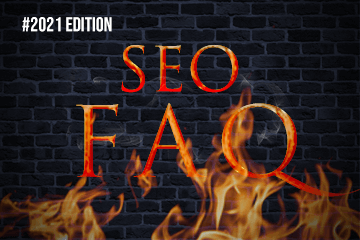 Article Name
Frequently Asked Questions in (2021) SEO — Answered in Simple English
Description
You frequently asked these SEO question on various social platforms. So, Compiled all and given Actionable-Authentic answers that works for SEO 2021.
Author
Publisher Name
Publisher Logo