Home » SEO, Copywriting, and Photoshop Blogs » SEO » Ubersuggest Review (2020): Find Keywords to Spy on Competitors
.
Using Ubersuggest past 6 months, and made $$$ from it in blogging business. And you can do this too.
.
It's not perfect, but enough to make your blog writing & SEO analysis better. Ubersuggest 7.0 has become a full-stack SEO tool. You can extract exact keyword search volume. And the tool divides keywords on the basis of nature of query; to decipher search intent. And the go-to tool for competition analysis and estimating high-traffic content ideas.
.
Start using free and keep using it for free. And once you learn the best practices, I promise you don't need $100 Ahrefs or SEMrush to grow your business.
.
Read the unbiased Ubersuggest review (free version) to learn the best practices.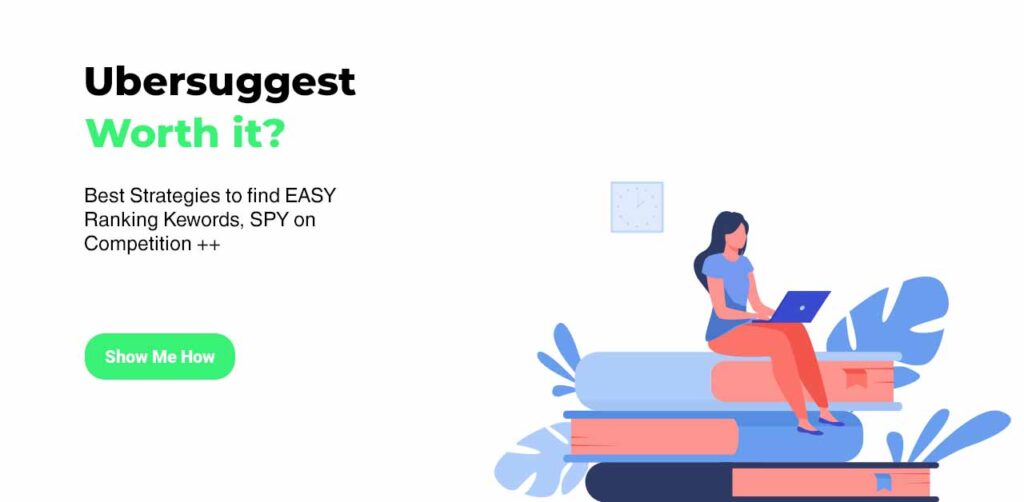 .
Ubersuggest helps Blogger or an SEO guy to get data for:
Keyword Analysis
Website Analysis.
Both analyses have a different approach. And done right, you can extract tons of information, and all for free.
So, let's dive in!
.
Keyword Analysis: Keyword Overview

Let's go simple, in the Ubersuggest review… I'll explain the meaning of these terms. And then I'll show you, how you can interpret the given data to grow your SEO traffic.
Search Volume
It reflects the monthly search volume of that keyword for the particular location (in this case the USA).
How Ubersuggest gets the data?
According to Active Campaign, Ubersuggest takes data from Google Suggest and Google Keyword Planner. After that, tool mashes both results and estimates the data from it.
Search volume graph
Shows the search trend (volume against time) for the past 12 months. This would help you understanding the keyword is seasonal or evergreen.
Evergreen keywords get consistent search volume (like keyword research). And seasonal keywords get "high" search volume for a short period of time (e.g., Halloween costume or Valentine gift).
.
The search volume is divided into two parts:
Desktop search traffic
Have higher purchasing tendency; brings larger dwell time.
Mobile search traffic
More local intent; interested in quick answers.
.
SEO difficulty
Tells you how hard it is rank on Google "ORGANICALLY" for a keyword. Also, known as Keyword Competition or Keyword Difficulty.
Now, I want you to understand Ubersuggest is an "Ai machine". So, take his suggestion from a grain of salt.
E.g., keyword research Tool (input query) Ubersuggest shows "EASY". Let's do a Google search. Observe the search results and see the competition. (Check this link for understanding search analysis in-depth.)
.
Here're the SERP results of "keyword research tool":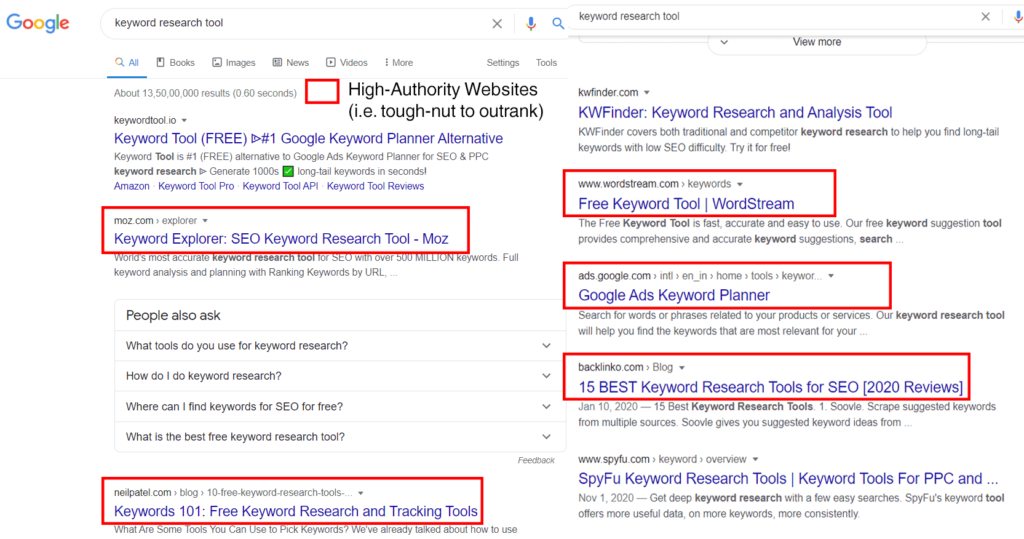 Dominated by Neil Patel, Moz, Wordstream, and Backlinko. And the tools says "EASY"… *slow claps*
PS – NO Single tool is perfect in determining Keyword difficulty. Even Ahrefs's KD is not a reliable factor, says Ahrefs.
.
Moving on…
Paid Difficulty
Tells the same but for "PAID" search on Google. It's useful for advertisers… and bloggers too! Because…
Better the paid difficulty, more the advertisers are bidding on the term and hence, the keyword would have higher commercial intent.
.
Cost Per Click (CPC)
An estimated amount you would pay if got ranked by Google Ad Sense. Obviously, Higher the CPC = Higher commercial intent.
.
Keyword Analysis: Organic Clicks Analysis

Clicks on SEO result
Green color shows Organic results got clicked against Paid results and No clicks.
In my experience, paid results are not an issue. Cliff Sacrona says, 85% of clicks are received by Organic results.
But "NO Clicks" can be a problem.
High % of no clicks represents:
1. Presence of Featured Snippet or People Also Asked (PAA). And it suffices user query comprehensively.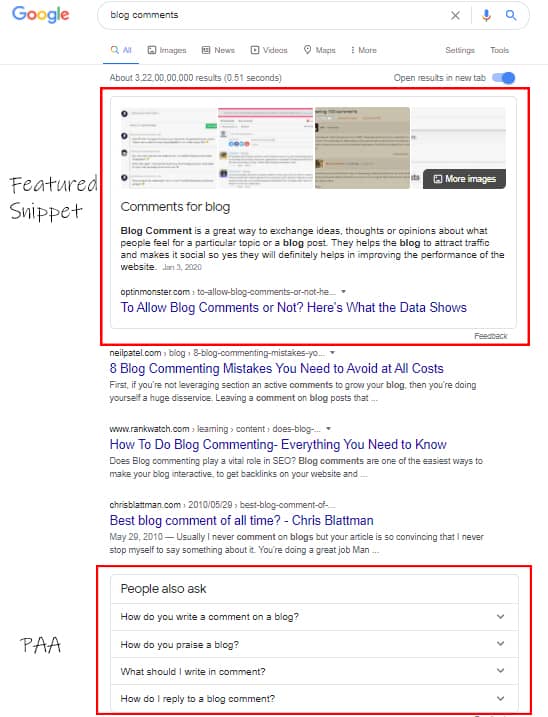 SEO Fun Fact – Optimizing the content around Featured Snippet is among the TOP SEO trends of 2021 by SEMrush.
2. Ad results are stealing your organic clicks.
3. Results would be predominantly searched from Mobile than Desktop, says Rand Fishkin.
SEO Fun Fact – Having no clicks in the search result is not surprising. In fact, 50.33% queries (more than half) receive no clicks. Also, with inflation in featured snippets, no click queries will only increase.
SEO Advice – Never fret on no organic clicks. It only means your result is not clicked. Appearing on Google search will continue to bring brand awareness, organic goodwill, and exposure.
.
Searcher's Age
This is an important factor (esp. in framing marketing campaigns) when you're selling a product.
For instance, if a searcher is below 18 years, purchasing power would be too low. While if a searcher is 40 years young, has higher purchasing power.
.
Keyword Analysis: Keyword ideas
Like other tools, it tells you the variations of the keyword entered. But with Ubersuggest, keywords are segmented into 5 groups.
To make the lives easier, I've made a cheatsheet… explaining how Ubersuggest divides the keywords.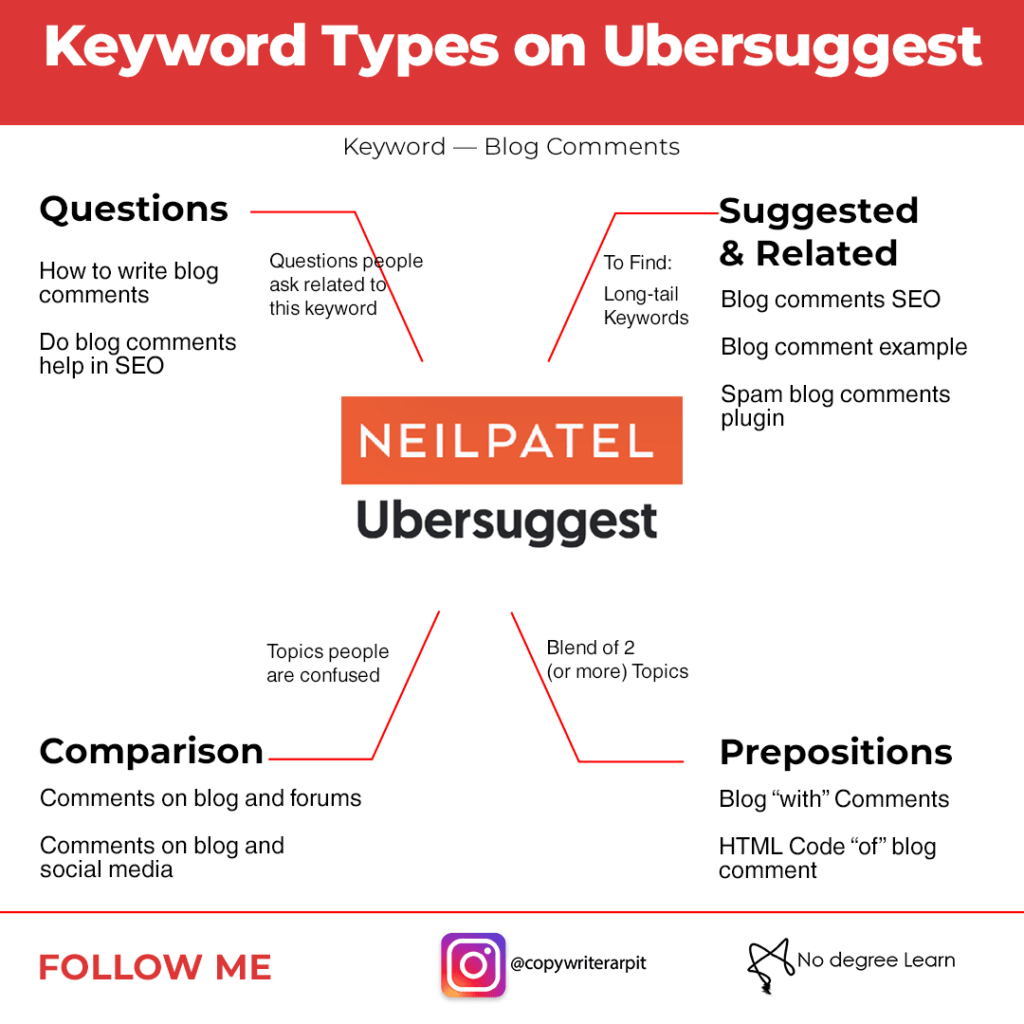 Click on any group and will show you more keyword ideas. Also, shares the SERP results of that keyword. Best thing – the list is sorted on search volume. Cool, yeah!

And each keyword group serves a different purpose as follows:
.
Suggestions and Related
They're nearly same. Share Long-tail Keyword variations.

E.g., for blog comments, keywords are: blog comments seo, blog comments example.
Also, if you correlate these keywords as content topic, you'll never be short of content ideas. E.g., people want to know blogs that allow commenting, impact of blog comments on SEO, blog comments plugin.
.
Prepositions
This shows queries which are blend of two (or more) different topics.
E.g., Blog without comments, HTML code for blog Comments.
It acts as topic clusters. Suppose you're writing – what are blog comments… include HTML code for comments & examples of blogs having/not having comment option available. This makes content bulky and value adding for the user.
.
Questions
This section helps you understand what kinda questions people have that are related to the keyword "blog comments".

E.g., how to write blog comments
Now, you just answer these questions. And this improves the blog's usefulness for the reader.
SEO Tip – Don't worry about the search volume of question keywords. These act as your secondary keywords (in most cases).
I'd suggest you to go in-depth, read here — difference between primary keyword and secondary keyword
SEO Tip – While structuring SEO optimized blogs, I use Question keywords as H3/H4 tags. I also use them towards the end in FAQ schema. This improves the blog structure.
Note – To explore more questions, use Answer the Public.
Benefit using Ubersuggest – shares the phrases people use in asking that question along with search volume. And you guessed it right, use these exact phrases… search visibility increases.
.
Comparison
I find most helpful keywords from this topic.
A Vs B
A or B
A difference B
Why choose A over B
E.g., Adidas shoes Vs Nike shoes
And this is gold. It tells the choices people are often confused. Each keyword can be discussed as a sub-topic or even a blog topic (depending on search volume).
When I typed "Ubersuggest" as a search query for writing Ubersuggest review, suggestions appeared:
Now, scroll further… and see how I used these keywords enriching my content.
.
Keyword Analysis: Content Ideas
Collection of all the "MOST SHARED" posts on Pinterest or Facebook. Sorting from highest to lowest.
Note – A content that performed well on Social Media has NO relation would do good on Google. Hear the views from Neil himself.
.
Views
Amount of organic traffic web page is receiving.
Beneath that, you'll find keywords the term is ranking for.
Note — From experience I say, DON'T rely on views metrics of Ubersuggest.
.
Backlinks
No. of external websites linking to your content. Having both follow and no-follow links.
Open the links, will limit you with 5-6 links (in the free version)… but again data is coming all free.
Now, just copy those links one-by-one on Excel file.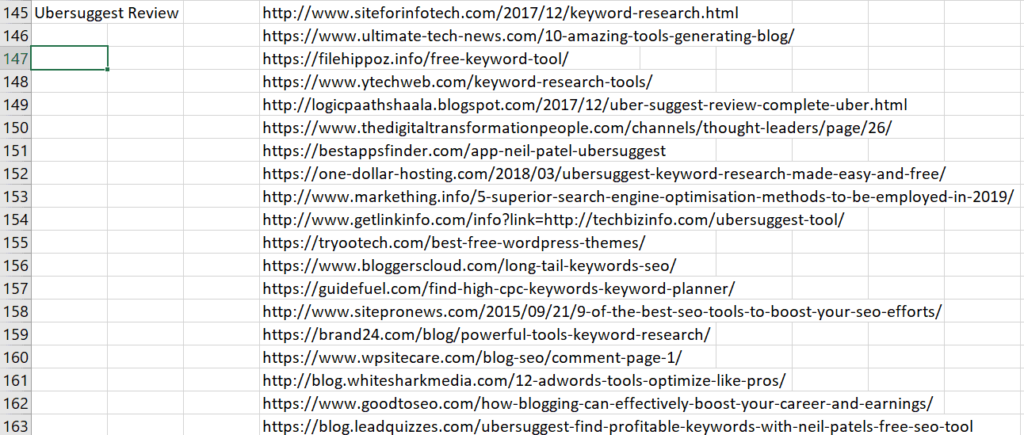 Now, once the post is published… I'll do outreaching to build backlinks.
.
Website Analysis
This is the feature where it gets an edge over SEMrush. The Perfect Tool (in free category) to spy on Your competition
Best thing — you don't have to be Sherlock for this. Let's see!
.
Find your competitor
For this, first know your territory well. List down your website's core values.
Like,
My website's niche: SEO, Copywriting, and Social Media Designing (like YouTube thumbnail designing or LinkedIn banner designing).
And I'm solving the problem – To help budding freelancers to start earning without spending on courses.
Now, from Networking and tons of Google search, I've shortlisted 20 competitors I regularly spy on! (and I'd recommend you the same for your business)
.
Once the list is done, let's enter it in the Ubersuggest.
Here's the one competitor Zenith Copy, I'm using to show you how competitor analysis is done.
Here's the overview:
For better analyzing the data, see this trick first:
www.anydomain.com/sitemap_index.xml
This will show all the pages that are indexed in this domain.
E.g., nodegreelearn.com/sitemap_index.xml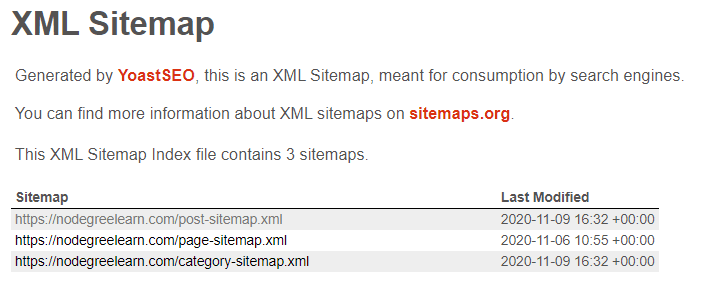 Now, click the blog page and will show all the blog posts.

See… it's that simple.
SEO Tip
Total number of URLs nearly Total blog posts published
Date given is the date where the blog post was "last modified" written in YY/MM/DD format.
Now, back to Zenith Copy, I used the same trick
You see, 51 URLs (= 50 blog posts).
Now, get your magnifying glass… competitor analysis (spying) starts!
.
Website Analysis: Domain Overview

.
Organic Keywords
The number of keywords Zenith Copy is appearing in the Google search.
For 50 blog posts, the website is ranking for 1,309 keywords. Hence, the girl hell writes long articles.
Conclusion: I also have to write the bulky content.
.
Organic Monthly Traffic
The number of organic search visits website receive/month across the globe.
Note – Ubersuggest is "NOT Accurate" in calculating website visits. So, use the data as a relative metric
Moving on, she gets 307 Monthly traffic… this means it's slightly under-performing.
Industry-standard of blog traffic is 1k page views/month per blog post for websites having more than 30 blog posts published.
Conclusion: Some of her content didn't go well, and I've to understand which didn't.
Here, I want to share a quote by Bismarck: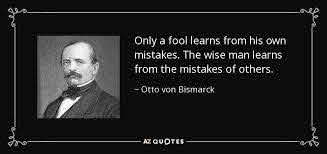 (Image source – AZ Quotes)
I'll come to Backlinks part later, first analyze her top-performing pages.
.
Website Analysis: Top-performing Content

Traffic Regions
First, observe the countries website is ranking for: The US, Canada, and The Great Britain.
And these huge are yeses! Because they are top purchasing power countries. And every business who wants to work with big-ticket clients must have thought about these 3 nations. Good job! Chima.
Conclusion: content she is producing are searched often in developed countries.
.
Top-Performing Pages
I want you to pick 2 pages:
Related to your website,
Topics you're interested in,
Bringing good organic views.
and paste them in your excel sheet.
Now, do for all other 20 competitors.
After that, you'll have 40 Best Performing articles. Proven and will work in the days to come. With these 40 topics, you won't say "Heck, I've nothing to write".
And if you do not have your competitor's list ready, no probs. I got your back. Scroll further.
.
Website Analysis: Finding more Competitors
It is a new feature of Ubersuggest. In Traffic Analyzer >> Competitors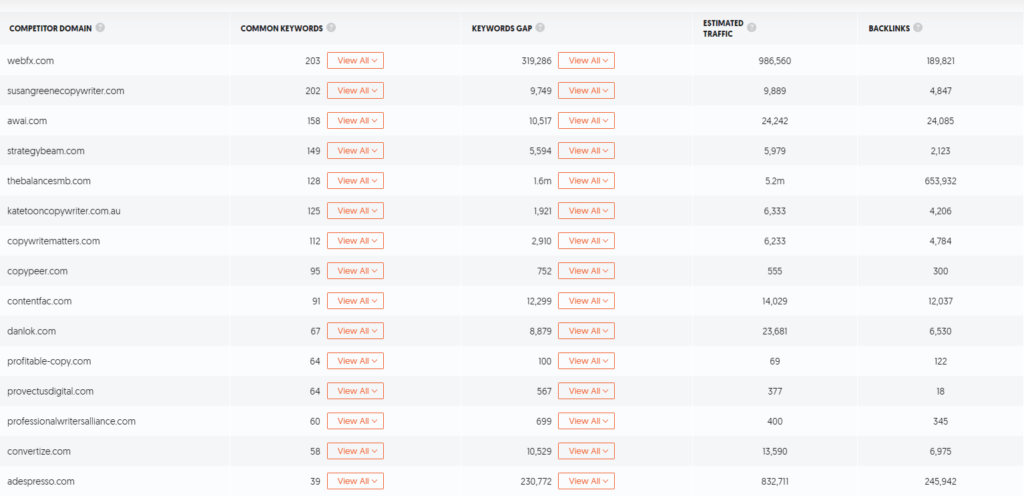 The Ai will show you the competitors. It sorts the list based on "common keywords" both sites are ranking for.
I'd say it's a good method. As more common keywords implement similar content produced. Hence, more likability that website having a similar niche and business goals.
.
But this method has a downside too. Like, you see WebFx is the closest competitor acc. to Ubersuggest. But it's not; WebFx is a content marketing Giant. Same you see The Balance SMB. It is a news website.
.
Bottom line –
No shortcuts. Take the tool's advice with a grain of salt.
When deciding competition, navigate across the website and then finalize it.
.
Good News – I got a very close competitor – copywritematters.com. Now, I'd analyze this website to extract more data. Yipee!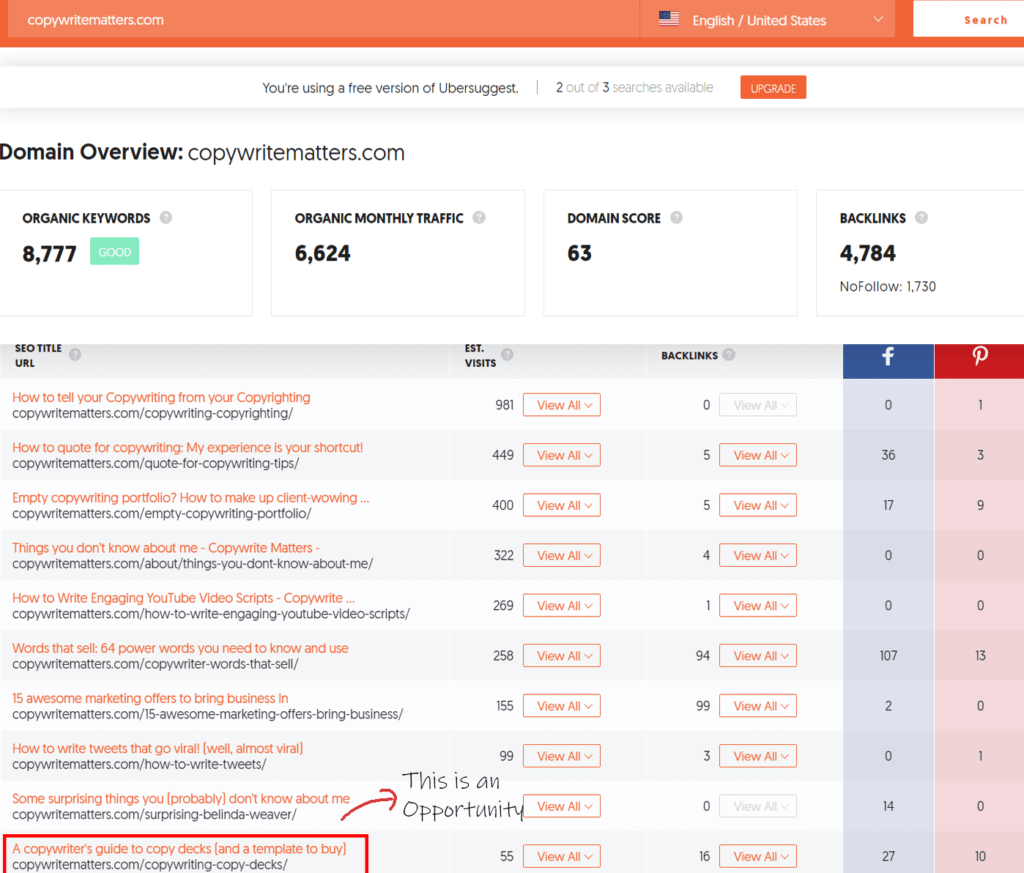 .
I checked her each top-performing article one-by-one. And I found, "article on copy decks"
The article was written on 29th May, 2013. Despite 7.5 years old, it still receives good traffic.
And this is what I call opportunity. I'll write a better and in-depth article… and due to freshness, my content would soon rank on Google. (feel free to copy this topic 😜)
.
Website Analysis: Scrutinizing the Backlink profile
This gives you the list of all the backlinks website (Zenith Copy) is having.
.

Total links are 557 = 387 Nofollow + 170 Follow links.
.
Referring Domains
Suppose A and B gave a backlink to Zenith Copy. Hence, two referral domains.
Definition – Number of domains the website got a backlink of any kind.
Default Settings:
One Link per domain,
All links (both Follow and Not-follow),
List sort by Domain Score. (I'd come to the Domain score later)
Now, change it to:
Filter links by Follow links,
Sort the list by first seen.
.
This helps in knowing the latest websites that linked to my competitor. It can be inbound links (links added naturally) or via link building (links added on request).
Like this blog post (Uberesuggest Review), all links are inbound links.
To spy on backlink efforts,
Check when they were linked. In this case, it's the uniform distribution.
Check pages manually. Use the anchor text to determine how the link is embedded.
Conclusion – It looks some links are natural (inbound links) while some are done on the sponsored post (link building). So, I'll also have to start building links, else my competitor would become WebFx soon.
Best Part – It shares the Time Vs Link Profile, to understand when the website got the backlinks. This graph is specifically used by SEO executives (like me) to understand how the website has built its link profile.
SEO Fun Fact – If you see an abnormal hike in Backlinks, probably the site has bought those links (Black Hat SEO).
SEO Advice – NEVER buy backlinks. After the Penguin Update, Google can smartly distinguish a paid & earned link. And if caught, your site won't appear in Google search for 30 days.
From experience, I say Ubersuggest is NOT accurate in checking total backlinks count. For my site, it shows I've 0 follow backlinks 😂
.
Reality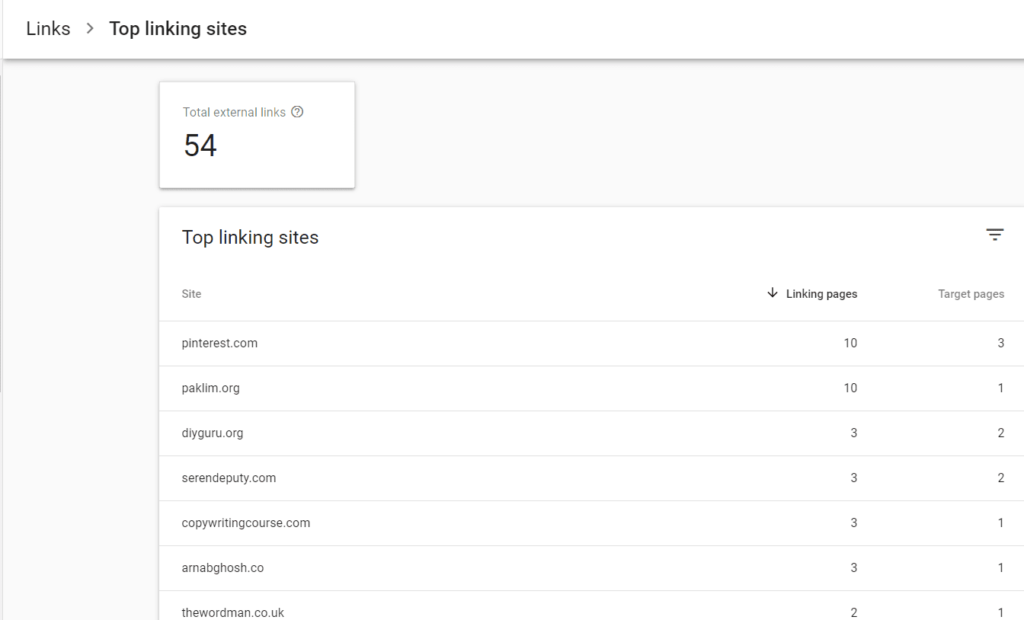 To check backlinks on your OWN website: Google Search Console >> Links >> External links >> Top linking site.
.
That's why I don't rely on Ubersuggest as a backlink checker.
Alternative tool for checking backlinks – Ahrefs Backlink Checker. Free version will show some initial links. To navigate all, then you have to purchase the $99 paid version.
.
Website Analysis: Domain Score
Domain score is the web's authority, count from 100. More the better. Also called Domain Authority (DA).
DON'T rely on Ubersuggest's Domain score. That sucks.
Reason – it mainly sees the backlinks and number of referring domains.
So, if web A generated a ton of links (White Hat or Black Hat), Ubersuggest will show high Domain score.
Alternative tool for Domain Score – use Moz DA Checker. You can read how search analysis is done via Moz tool.
.
Ubersuggest Review: Pros and Cons
Pros
1. Gives 8-9 trials in the free version.
If used wisely, strategy I shared, they're enough for your blog research.
2. Intuitive User-Interface
Comparing with SEMrush, Ubersuggest is more user-friendly.
Everything is accessible in one window. And Neil did a great job in naming the tabs. Such they don't too technical.
3. Provides the exact search volume of the keyword.
This benefit gives an upper hand over Google Keyword Planner (GKP). Hands down.
GKP shows a range of data.
See this example to understand why exact data is important.
When I was filtering keywords for my keyword research blog,
GKP showed – 1k-10k for Keyword research, 1k-10k for Keyword Analysis.
Ubersuggest showed- 4600 for Keyword Research, 1800 for Keyword Analysis.
With this, I shortlisted Keyword Research (as primary keyword) to gain more visibility.
4. Segmented search volume on Device, Age, and Demography
Telling demography associated with every keyword helps in tuning the marketing funnels. Targeting your ideal audience better. Also, filtering what keywords to target as primary keywords.
5. Tells clicks and No clicks
This helps in the SERP analysis. Also, in guessing result has a featured snippet or not.
6. Figuring out competition
Despite not perfect, still deserves some appreciation.
I've noticed, Ubersuggest shows a wider list of competition than SEMrush.
And I'm sure, using this tool will definitely help you in discovering 2 (min.) competitors you can spy.
7. In exploring high-performance blog ideas
Type your competition URL. And see the top-performing pages. And hand-pick those which are bringing good page views.
8. Exploring keywords
Ubersuggest is my go-to tool in exploring the exact phrases audience is typing.
Now, sprinkle them in your content, boosting the blog's visibility.
SEO Advice – Sprinkling phrases smartly and Keyword stuffing are two different things.
I've talked in detail about Keyword Stuffing before.
Like no tool is perfect for SEO analysis, so the case with Ubersuggest. Also, the review would be incomplete without telling the cons.
.
Cons
1. Inaccurate Domain Score and Backlink Checker.
Ubersuggest can't detect all the backlinks. Nor effective in measuring the Domain score.
Tools I use for this purpose:
Backlink checker — Ahrefs Backlink Checker
Domain checker — Moz DA Checker.
2. Ubersuggest website audit is not worthy of your time.
That's the reason, I didn't cover it in this Ubersuggest review.
If you've a small website, then best tool — Google Search Console.
And if you've a mid-cap website (DA = 25-40), better hire an SEO executive (like me) to audit for you.
3. Page views indicator is NOT accurate
Neil Patel said it! Like his website receives 5 M traffic per month but Ubersuggest shows only 3 M. Hence, Ubersuggest tend to under-estimate the view count.
So, I'd recommend you to take the view count as a relative metric.
4. SEO difficulty is inaccurate
High-competitive keywords can be termed "EASY", so take its advice with a grain of salt.
5. No data on SERP analysis.
In Ahrefs, you can sort keywords having Featured Snippet but this luxury NOT available on Ubersuggest.
.
I hope after this, you strategize the SEO analysis better when using Ubersuggest.
.
Now, let's quickly compare Ubersuggest with alternative (free) SEO tools.
.
Tools like Ubersuggest
Ubersuggest Free VS Google Keyword Planner
| | |
| --- | --- |
| Ubersuggest | Google Keyword Planner |
| Less Authority with data. | More authority, data coming directly from Google. |
| Gives Exact search volume. | Gives a range. |
| Shows search volume trends. | Nothing such. You've to use Google Trends for this. |
| Keyword explorer, backlinks, website report, content ideas. | Restricted to keyword suggestions and keyword competition. |
| Limited Attempts. | Unlimited attempts. |
.
Ubersuggest Free VS Moz Free
| | |
| --- | --- |
| Ubersuggest | Moz |
| Best for Keyword search volume and Content ideas. | Best for Domain Authority Checker. |
| Runs a complete website audit. | Gives an overview of On-page SEO of a particular page. |
| Limited Attempts. | Unlimited attempts. |
| Primarily used for Keyword analysis. | Primarily used for SERP analysis. |
| Shows the backlinks and anchor text. | Shows only backlinks count. |
.
SEO advice – Use both Ubersuggest and Moz. I use Ubersuggest in finding interesting content ideas and keywords. Once done, do the SERP analysis via Moz DA checker. Then shortlist those to target.
.
Ubersuggest Free Vs Ubersuggest Paid
| | |
| --- | --- |
| Ubersuggest Free | Ubersuggest Paid |
| 8-9 attempts. | Unlimited attempts. |
| Can track 1 website for its SEO growth. | Can track 3 websites for 100 keywords. |
| No support available. | Email Support, Coaching, and Q/A call available. |
Ubersuggest (full version) is normally priced $12/month. But for a limited time, you can access it for lifetime in $120.
.
Conclusion
We've seen how Ubersuggest shows the exact search volume for keywords. And dividing keywords to cater specific interests, hence making easier to select.
Then we discussed, how Ubersuggest helps in spying on competition. And finding proven high-performing content ideas.
By following these strategies, I'm sure you extract enough data for your blogging and running an SEO audit. All costing you none.
In the course, I shared my $.02 on cons of Ubersuggest: poor judgement on Domain score and Backlinks counter, under-estimating the traffic, etc. And what alternatives you can use to replenish it. Ended the blog, comparing Ubersuggest against industry standard tools.
.
FAQ
Q1. Does Ubersuggest have an affiliate program?
According to Affiliate Program Database, Ubersuggest has NO Affiliate program currently.
Q2. Who Owns Ubersuggest?
Ubersuggest is owned by Neil Patel. It is designed by the team led by Neil.
Q3. How Accurate is Ubersuggest?
Neil writes, Ubersuggest "estimates" data based on the ranking of the page for every country in Google Search.
From my experience, Ubersuggest shares a reliable search volume for a keyword. But found to be inaccurate when estimating traffic for a page; expect more page traffic than projected.
In terms of crawling your web pages for website audit, you may find some pages left out by Ubersuggest.
Q4. Where does Ubersuggest get its data?
According to Active Campaign, Ubersuggest takes data from Google Suggest and Google Keyword Planner. After that, the tool mashes both results and estimates the data from it.
Q5. Should I go for Ubersuggest Premium?
Premium version allows you to track your website growth with larger capability. And to use Ubersuggest with unlimited trials.
Summary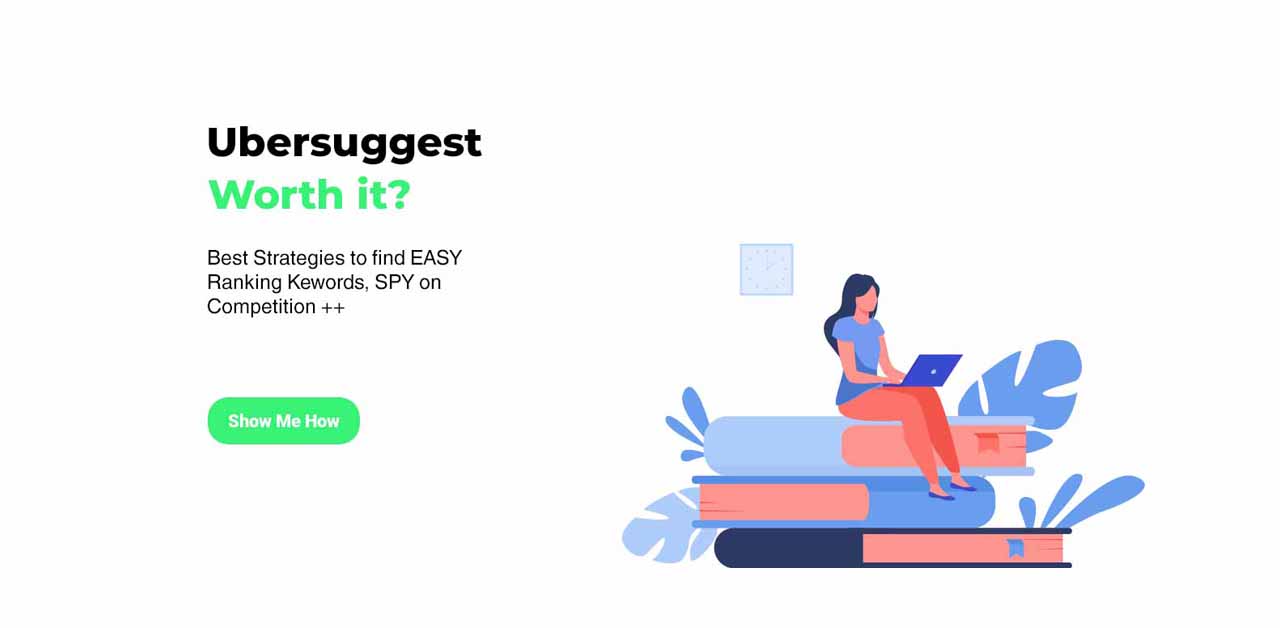 Article Name
Is Ubersuggest good SEO Tool? Honest REVIEW (2020)
Description
Ubersuggest, a free Neil's SEO tool, finds keyword research, generate content ideas, and spy on competitors. Inside review: shared best strategies on how to use and pros/cons.
Author
Publisher Name
Publisher Logo